Critics say Valeriya and Iosif Kobzon, who are to perform at the Albert Hall on 21 October, are propaganda tools for 'treaty-breaking' Russia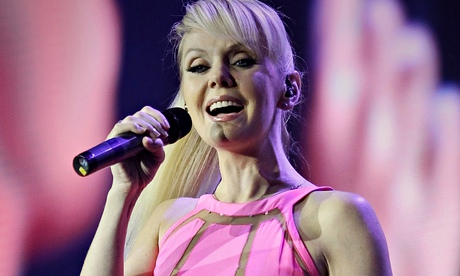 Alla Perfilova, better known as Valeriya, performing in St Petersburg. She has praised the Russian government's anti-gay legislation on chatshows.
Protesters are calling on Downing Street to bar two high-profile Russian pop stars who are vocal supporters of Vladimir Putin from entering Britain for a gala performance next week at the Royal Albert Hall.

Crooner Iosif (Joseph) Kobzon and Alla Perfilova – known by her stage name, Valeriya – are due to perform on 21 October at a heavily advertised one-off concert in London.

Critics, who have launched an online petition, accuse the singers of being Kremlin cheerleaders and say the visit, if it goes ahead, will show western sanctions against Moscow over its invasion of Ukraine are ineffective.

In March, Kobzon and Perfilova signed an open letter supporting Putin's policies in Ukraine and his Russia's annexation of Crimea. Perfilova has been a stalwart defender of the Russian government, praising its anti-gay legislation on TV chatshows and backing the decision to jail the punk band Pussy Riot.