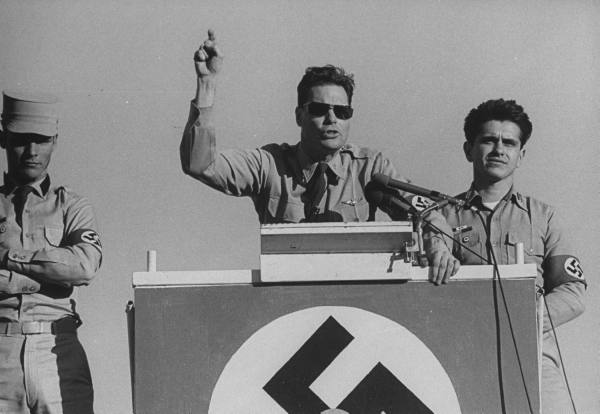 Below is an extract from an article written by Commander Rockwell:
WHITE MAN! The same iron blood of your mighty ancestors flows in your veins! The towering figure of ADOLF HITLER reaches out a giant hand to lift you up to world-conquering POWER! You have cringed long enough before pygmies! Now RISE! Defy the rats and vermin at your feet! Let them feel the toe and heel of your boot! Stamp them out!
You have been sleeping. When you rise and stand up, and the masses once more see what a man of FORCE looks like, they will love you as they now imagine they hate you. With the spark of National Socialism, struck by Adolf Hitler, burning in your breast, you are unconquerable! IN HOC SIGNO VINCES! In the sign of the Swastika, YOU will conquer!
Join hands with the heroes in America, Britain, Iceland, Denmark and other White countries who have raised the holy Swastika banner and defended it with their blood. It has risen from the ashes of Berlin, and never shall it be hauled down again. Stand with us before the altar of Adolf Hitler and the world-conquering White race, and pledge your life as we have, to bring the order and justice of Western, White civilization once more into the world. Let us teach the traitors and rats and pygmies once more to cringe in terror in their huts and pray, "Lord save us from the FURY OF THE MEN OF THE NORTH!"
More HERE