Planning minister says the law will be changed so companies do not have to directly notify people about gas drilling in their areas.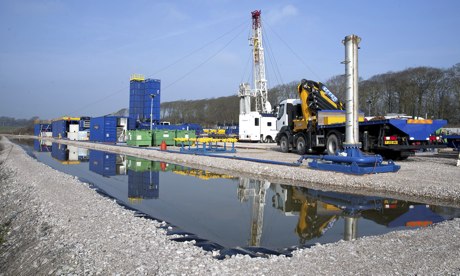 A shale gas drilling rig in Weeton, near Blackpool.
Fracking could take place under thousands of homes without their owners' knowledge after ministers said companies would no longer have to notify people directly about potential gas drilling in their areas.

Nick Boles, the planning minister, said the law would be changed to allow gas companies to put in fracking applications without sending out letters to tell people about possible drilling beneath their properties. Instead, companies will be required to publish a notice in a local newspaper and put up site displays in local parishes, as well as conducting a wider consultation.

Campaigners said the announcement was a blow to all communities likely to be affected by fracking, following concerns about minor tremors caused by test drilling for shale gas near Blackpool, and the potential for flaring, air pollution and contamination of water.

However, the government said it would be too burdensome for gas companies to tell everybody within a wide radius of drilling that it might take place under their homes. It would mean a "disproportionately large number of individuals and businesses" would have to be personally informed, Boles told MPs in a written statement.

Ministers have repeatedly dismissed safety and environmental concerns about fracking, saying it will be tightly regulated and developed responsibly.