Whistleblower says staff warned they would be disciplined unless they increased number of claimants coming off register.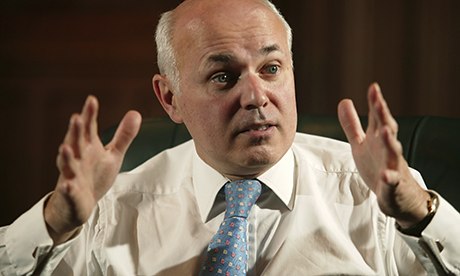 The whistleblower, a former job centre worker, said:
'It is your job to make the claimant's life difficult, they say.'
Iain Duncan Smith was confronted at the work and pensions select committee with claims that job centre staff are being handed targets to reduce the number of claimants by moving them off the register or ensuring that they have their benefit removed.
An anonymous whistleblower, a former job centre worker who was employed in the Greater Manchester area, told local Labour MP Debbie Abrahams and the Guardian that on one occasion the entire staff at a job centre were warned they would be disciplined unless they increased the number of claimants coming off the register, or raised the number threatened with the loss of their benefit entitlement.

The complainant's concerns were subsequently aired at the select committee by Abrahams, but in an interview before the work and pensions secretary's appearance, the former employee told the Guardian that the system of benefit sanctions is very subtle.
"They say to you that not enough people are coming off the claimant register and that if you do not get more people off the register you may be subject to an internal disciplinary assessment – a personal improvement plan.
"If you ask managers how many people you are supposed to get off the register, they say more and more continuously. It is your job to make the claimant's life difficult, they say. It creates a target culture."
The former employee also says that a Department of Work and Pensions internal whistleblowers system is not working since the complaints by staff are being handed to the senior district managers responsible for demanding job centres do more to drive claimants off the register.

The complainant wishes to remain anonymous, saying they were made ill by the strain of seeking to complain, but told the Guardian they would like nothing more than to meet Duncan Smith to explain the culture that has grown up in the department.

Speaking to the Guardian, the whistleblower said:
"I tried to raise these matters on many occasions both face-to-face and in writing with management, but each time I was rebuffed and my concerns ignored.
"But the truth is that benefit claimants are being deliberately set up to fail in order to achieve sanction quotas without regard for natural justice or their welfare. Staff are being asked to behave in a manner that is against the department's values of integrity and honesty."
The complainant also alleged that senior managers electronically altered a claimant's file to make it appear they had been told to attend the job centre the following day when no such notification had been given. Failure to attend a job centre interview is grounds for sanction.

The DWP has consistently denied that it gives job centres targets for applying sanctions to jobseekers, or discontinuing benefit. Neil Couling, the DWP's work services director, told the work and pensions select committee on 20 November that he does set targets and expectations for job centres, but there are no targets for sanctions.

After the whistleblower's concerns were raised at the hearing, Duncan Smith said he was prepared to look at any complaints, but accused his critics of moaning. He said:
"There are always one or two people operating in an organisation that have a different view."
He said staff apply benefit sanctions within the rules and Couling has looked at complaints in the past and on every occasion had no reason to doubt that people were operating properly. He added that he was happy to meet the whistleblower, but that the complainant should meet Couling first
.