Chancellor's announcement paves way for Chinese companies to take stake in or own 100% of new nuclear power stations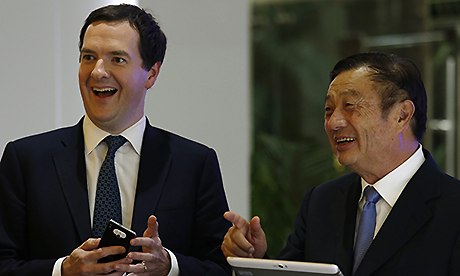 China could play an instrumental role in Britain's future nuclear power generation after George Osborne said companies in the world's second largest economy would be allowed to buy into the sector.

The decision would pave the way for Chinese companies to take a stake in or own 100% of new British nuclear power stations.

The chancellor made the announcement at the Taishan nuclear power plant on the final day of his trade visit to China, which was aimed at strengthening the UK's business ties with the country.

Chinese investment would likely begin with a minority stake in a power project, but over time the stakes in subsequent new power stations could become majority stakes, the government said. Osborne said it would pave the way for lower energy costs for British consumers [Total bullshit]
"Today is another demonstration of the next big step in the relationship between Britain and China – the world's oldest civil nuclear power and the world's fastest growing civil nuclear power," he said on Thursday.
"It means the potential of more investment and jobs in Britain, and lower long-term energy costs for consumers."
The move followed
an agreement reached earlier in the week which would see civil nuclear collaboration between the UK and China on investment, technology, construction and expertise
.
The government said that as well as supporting Chinese investment in the UK, the agreement would make sure that British companies including Rolls-Royce, International Nuclear Services, and engineering companies like Mott MacDonald would be part of China's multibillion pound new nuclear programme.

The energy minister, Ed Davey, said over the weekend that Britain was "extremely close" to agreeing a deal with France's EDF Energy to build a new nuclear plant at Hinkley Point in Somerset, with a Chinese company also expected to take part in the project.

During his trip to China, Osborne also unveiled a new visa system to make it easier for Chinese business leaders and rich tourists to visit the UK.

He also made a surprise decision to allow Chinese banks to set up more easily in the UK, which raised eyebrows among the cross-party Treasury select committee of MPs.

Led by chairman Andrew Tyrie, the committee is seeking assurances that the chancellor consulted the City's regulatory bodies over the proposal to relax rules, and that they are satisfied with the plans.