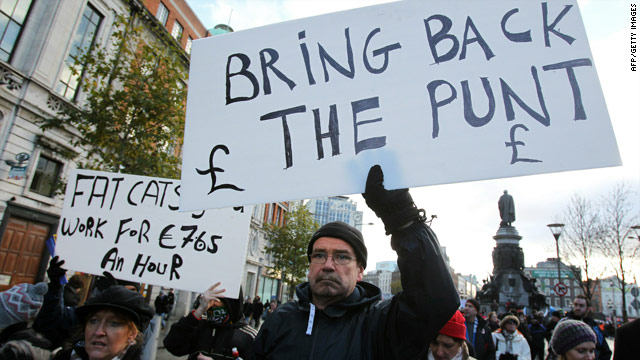 The Labour-Fine Gael coalition in Dublin is preparing to impose a budget including up to €3 billion in further cuts, on top of more than €30 billion in austerity implemented since the outbreak of the economic crisis in 2008.
The troika of lenders in the European Union (EU), International Monetary Fund (IMF) and European Central Bank (ECB) have declared their firm opposition to any deviation from the original target of €3.1 billion in savings next year, as agreed under Ireland's bailout programme. They insist that failure to implement such measures will result in a loss of confidence on financial markets at the point where Dublin is preparing to exit its €85 billion bailout programme at the end of the year, and will mean that Ireland fails to reach the target of a budget deficit of 5.1 percent of GDP next year.

Considerable concerns remain over the state of Ireland's economy. Although growth returned in the second quarter of this year, officially ending a period of recession, the growth rate of 0.4 percent was far below that anticipated by the government. The coalition's economic projections have consistently proved to be too optimistic, increasing the pressure for deepening the austerity drive.

Jörg Asmussen, Germany's representative on the board of the ECB, said in a recent interview with national broadcaster RTÉ,
"It is crucial the authorities stick to the programme's objectives as they have done to ensure the country remains on a sustainable path."
His comments came as discussions continued over the possibility of reducing slightly the overall figure of budget cuts. Labour leader and deputy prime minister Eamon Gilmore has suggested that only €2.5 billion of cuts need to be made in order to comply with spending targets. A provisional agreement within the coalition to reduce the budget by €2.8 billion has reportedly been reached, but this depends on tax return figures due out this week.