Sunday, 31 March 2013
American President Obama has declared March 22 "Education and Sharing Day" in tribute to Menachem Mendel Schneerson, whose birthday is March 22.
"This day recalls the memory of Rabbi Menachem Mendel Schneerson, the Lubavitcher Rebbe, who taught generations of young men and women the importance of education and good character," Obama wrote in a Presidential Proclamation posted on the White House website.
It said Obama signed the document during his first presidential visit to Israel.
Menachem Mendel Schneerson – the Lubavitcher Rebbe. Lag BaOmer parade. Brooklyn, New York, USA. 17/05/1987 עברית: רבי מנחם מנדל שניאורסון – בתהלוכת ל"ג בעומר בניו-יורק תשמ"ז (1987) (Photo credit: Wikipedia)
"I call upon all Americans to observe this day with appropriate ceremonies and activities."
The document also said that the work carried out by Schneerson, who died in 1994,
"strengthened ties between people around the world, and his legacy continues to inspire the service, charity, and goodwill he championed in life."
"As we reflect on the example he and so many others have set, let each of us strive to better realize the values we share."
However, most non-Jews know little of Rabbi Schneerson, who was an influential character in the large Jewish Chabad-Lubavitch movement.


The rabbi who President Obama and millions of Jews hold in high regard wrote:
"The body of a Jewish person, is of a totally different quality from the body of members of all other nations of the world. Bodies of the Gentiles are in vain."
"An even greater difference is in regard to the soul. A non-Jewish soul comes from three satanic spheres, while the Jewish soul stems from holiness."
And:
"A Jew was not created as a means for some other purpose; he himself is the purpose, since the substance of all divine emanations was created only to serve the Jews."
Posted by

Unknown
at 17:34
1 comments

Saturday, 30 March 2013
Pass it on. That's why it's here. ~Frank Roman

Wherever you stand, please take the time to read this; it ought to scare the pants off you.

We know Dick Lamm as the former Governor of Colorado (Democrat). In that context his thoughts are particularly poignant. Recently there was an immigration overpopulation conference in Washington, DC, filled to capacity by many of America's finest minds and leaders.
A brilliant college professor by the name of Victor Davis Hansen talked about his latest book, "Mexifornia," explaining how immigration both legal and illegal was destroying the entire state of California He said it would march across the country until it destroyed all vestiges of The American Dream.

Moments later, former Colorado Governor Richard D. Lamm stood up and gave a stunning speech on how to destroy America. The audience sat spellbound as he described eight methods for the destruction of the United States. He said,
"If you believe that America is too smug, too self-satisfied, too rich, then let's destroy America. It is not that hard to do. No nation in

history has survived the ravages of time. Arnold Toynbee observed that all great civilizations rise and fall and that 'An autopsy of history would show that all great nations commit suicide.'"
"Here is how they do it," Lamm said:
"First, to destroy America, turn America into a bilingual or multi-lingual and bicultural country." History shows that no nation can survive the tension, conflict, and antagonism of two or more competing languages and cultures It is a blessing for an individual to

be bilingual; however, it is a curse for a society to be bilingual. The historical scholar, Seymour Lipset, put it this way:
"The histories of bilingual and bi-cultural societies that do not assimilate are histories of turmoil, tension, and tragedy."
Canada, Belgium, Malaysia, and Lebanon all face crises of national existence in which minorities press for autonomy, if not independence. Pakistan and Cyprus have divided. Nigeria suppressed an ethnic rebellion. France faces difficult times with Basques, Bretons, and Corsicans."
Lamm went on:
Second, to destroy America, "Invent 'multiculturalism' and encourage immigrants to maintain their culture. Make it an article of belief that all cultures are equal. That there are no cultural differences. Make it an article of faith that the Black and Hispanic dropout rates are due solely to prejudice and discrimination by the majority. Every other explanation is out of bounds.

Third, "We could make the United States an 'Hispanic Quebec' without much effort. The key is to celebrate diversity rather than unity. As Benjamin Schwarz said in the Atlantic Monthly recently: "The apparent success of our own multiethnic and multicultural experiment might have been achieved not by tolerance but by hegemony. Without the dominance that once dictated ethnocentricity and what it meant to be an American, we are left with only tolerance and pluralism to hold us together." Lamm said, "I would encourage all immigrants to keep their own language and culture. I would replace the melting pot metaphor with the salad bowl metaphor. It is important to ensure that we have various cultural subgroups living in America enforcing their differences rather than as Americans, emphasizing
their similarities."

"Fourth, I would make our fastest growing demographic group the least educated. I would add a second underclass, unassimilated, undereducated, and antagonistic to our population. I would have this second underclass have a 50% dropout rate from high school."

"My fifth point for destroying America would be to get big foundations and business to give these efforts lots of money. I would invest in ethnic identity, and I would establish the cult of 'Victimology.' I would get all minorities to think that their lack of success was the fault of the majority. I would start a grievance industry blaming all minority failure on the majority population."

"My sixth plan for America's downfall would include dual citizenship, and promote divided loyalties I would celebrate diversity over unity. I would stress differences rather than similarities. Diverse people worldwide are mostl engaged in hating each other that is, when they are not killing each other. A diverse, peaceful, or stable society is against most historical precedent. People undervalue the unity it takes to keep a nation together. Look at the ancient Greeks. The Greeks believed that they belonged to the same race; they possessed a common Language and literature; and they worshipped the same Gods. All Greece took part in the Olympic games. A common enemy, Persia, threatened their liberty. Yet all these bonds were not strong enough to overcome two factors: local patriotism and geographical conditions that nurtured political divisions. Greece fell. "E. Pluribus Unum" from many, one. In that historical reality, if we put the emphasis on the 'Pluribus' instead of the 'Unum,' we will Balkanize America assuredly as Kosovo."

"Next to last, I would place all subjects off limits; make it taboo to talk about anything against the cult of 'diversity.' I would find a word similar to 'heretic' in the 16th century that stopped discussion and paralyzed thinking. Words like 'racist' or 'xenophobe' halt discussion and debate. Having made America a bi-lingual/bicultural country, having established multiculturalism, having the large foundations fund the doctrine of 'victimology,' I would next make it impossible to enforce our immigration laws. I would develop a mantra: That because immigration has been good for America, it must always be good. I would make every individual immigrant symmetric and ignore the cumulative impact of millions of them."

In the last minute of his speech, Governor Lamm wiped his brow. Profound silence followed. Finally he said,
"Lastly, I would censor Victor Hanson Davis's book "Mexifornia." His book is dangerous. It exposes the plan to destroy America. If you feel America deserves to be destroyed, don't read that book."
There was no applause. A chilling fear quietly rose like an ominous cloud above every attendee at the conference. Every American in that room knew that everything Lamm enumerated was proceeding methodically, quietly, darkly, yet pervasively across the United States today.
Discussion is being suppressed. Over 100 languages are ripping the foundation of our educational system and national cohesiveness. Even barbaric cultures that practice female genital mutilation are growing as we celebrate 'diversity.' American jobs are vanishing into the Third World as corporations
create a Third World in America take note of California and other states to date, ten million illegal aliens and growing fast. It is reminiscent of George Orwell's book "1984." In that story, three slogans are engraved in the Ministry of Truth building: "War is peace," "Freedom is slavery," and "Ignorance is strength."
Governor Lamm walked back to his seat. It dawned on everyone at the conference that our nation and the future of this great democracy is deeply in trouble and worsening fast. If we don't get this immigration monster stopped within three years, it will rage like a California wildfire and destroy everything in its path especially The American Dream. If you care for and love our country as I do, take the time to pass this on just as I did for you.


NOTHING is exactly what will happen if you don't.
http://www.truthorfiction.com/rumors/l/lamm.htm#.UVYSIkOnzxc

Feel like I'm repeating myself when I say that this can apply to any Western nation in which multiculturalism has been imposed, and in which cultural Marxism is deep rooted into all cultural institutions. Can not any citizen of any given white nation relate to the 8 point plan to destroy America as is posted above. Unfortunately only some of us do understand it, some white Westerners actually desire this, which whilst sad, is the biggest example of treachery known to man, to want and facilitate your own people and nations downfall was once punishable by death. In times gone by, traitors would have swung from the neck until dead.
Remember, that those people who are now actively involved in supporting such cultural destruction, are the same people who are creating conditions in which our children will suffer due to that treachery, and in many cases due to our own failings and apathy regarding the situation. The white western children of the future will be the children of the revolution, but is that what we really want for them. Should not we, in the here and now do everything we can to bring to peoples attention what the future holds for them, and what will happen if we continue down this road of suicidal bliss.
Posted by

Unknown
at 16:54
0 comments

It is time to stop being Israel's Bitch!

I renounced my US citizenship and the United States of Hypocrisy refused to acknowledge my right, our right, to self-determination. Alright then, I am thinking now that maybe I just needed to leave for 10 years or so and reflect on things, now that I have, I have made some important conclusions
.
First among them is that it remains an embarrassment, that idiot flag waving Americans have sat by while their Constitution was used like toilet paper and their government became a bought and paid for circus of clowns.
Second
is that due to this despicable state of affairs of failing to pay attention on our watch we Americans have continued to be complicit in mass murder that is truly unparalleled in the modern age. God help us for what we are collectively responsible for.
Third, our American sons and daughters continue to be used as the meaningless pawns they are and ultimately, aside from those our sons and daughters murder in foreign lands, aside from those we rape and torture, our sons and daughters themselves are the biggest victims of all. We so pathetically spouted "support our troops", like idiots, incredible idiots, while effectively sentencing them to a fate that makes post-traumatic stress disorder almost inevitable. Look at the drug abuse, domestic violence, homelessness and suicide rates of returning soldiers and compare it to the returning soldiers of Vietnam, what the fuck are we doing to our supposedly cherished sons and daughters?
I have come to another conclusion, America is almost assuredly going down and going down hard, so hard that it might just bring the whole world down with it, for this reason more than any other I feel a need to exercise the best virtues I obtained as an American born son and do my best to sound the alarm. To reach out to every genuine, not fake ass idiot patriot, but to reach out to the genuine patriots.
And lastly, we need to acknowledge 100% that the American government is bought and paid for by the Zionist, Jewish supremacists, Israeli "dual citizens", which in truth is a pyramid with the Rothschild's and their bankster kin at the top. These are the puppet masters and they have used America as their strong arm, if we are so blindingly stupid as to continue this role as their enforcers, we will exterminate not only ourselves but possibly this beautiful world we live in.
Hiroshima and Nagasaki are proof of just how horrendous we have been and thus are capable of being today.
It is time to stop being chumps, it is time to actually give some meaning to the word patriot. It is especially time for those in the police, military and government who took an oath to uphold the Constitution to honor that commitment. Are you a person of honor? Or are you a fraudster? A coward?
I couldn't care less about fake patriots, but real patriots, I am serious about working with you. Get the fuck up and take the fake ideals of America and make them real. If that were to happen I will happily ask for my citizenship back... until such time I do not give my allegiance to this criminal entity and thus I am not a citizen regardless of the judgments of this corrupt government and its minions.
When America truly becomes a nation of honor I will be proud to stand among its citizens as a genuine member of the family. Let us make this so.
Thank you to Anthony Lawson for his reading.
Posted by

Unknown
at 16:32
3 comments

Posted by

Unknown
at 16:02
0 comments

9/11 was a master plot, concocted by a handfull of Israelis and dual passport Americans and carried out by the resources of the Mossad
Fast backward, Hamburg 54 Marienstrasse, july 2000, 22:40. Mohamed Atta, Al Shehhi and Jarrah (who were later blamed of being the pilots of flight 11, 175 and 93 respectively), who share the apartment hear the ringing of the door bell. Jarrah opens the door, 5 masked men make their way into the apartment with drawn pistols.
The 3 Arabs are forced to lay on the ground. Their passports are confiscated, next the 3 men are made unconscious with some liquid and strangled to death afterwards. The bodies are carried out of the apartment into a van and driven off towards a desolate spot at the boarding of the Elbe river outside Hamburg, 1 kilometer north of Borstel and disposed of into the river with a bag filled with stones tied to their feet.
The 3 passports are now in the possession of the agents of the Mossad, who carried out the raid on the apartment and 3 Arabs have vanished without anybody knowing that they are dead. Not long after the raid the 3 passports are given to 3 Israeli agents who were selected on having some resemblance with the 3 Arabs just killed. They make for America soon afterwards in the summer of 2000 and start laying a trail at flight schools, posing with the stolen identities from the 3 Arabs killed.
When the banks finally implode due to all the con games that were used to loot American's of their wealth, you'll be able to recall when that 'Final Solution' to plunder our heritage was set in motion, that day that will live in infamy, September 11, 2001.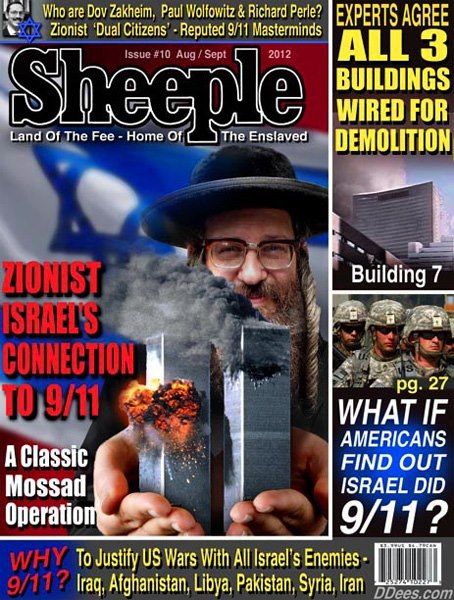 Posted by

Unknown
at 15:58
0 comments