Thursday, 28 February 2013
What you see above is one of several videos posted recently showing Syrian women undergoing training to defend their country from Western-backed Wahhabi terrorist gangs—the so-called "Free Syrian Army" being employed by the US and NATO in their efforts to overthrow the government of Bashar Assad. These women are part of the new National Defense Forces, comprised mainly of civilians, who will work in coordination with, and in support of, the Syrian Army.

Coincidentally (or not), as the women prepare to wade into the carnage that has been unleashed upon their country, the US seems to be contemplating a "major policy shift" that could result in a dramatic increase in the firepower and military capabilities of their enemies.
The following comes from Press TV:
Posted by

Unknown
at 12:06
0 comments

Tuesday, 26 February 2013
This video link has just come in from Mary Sullivan (http://news-cottage-two.blogspot.co.uk/). Thanks Mary.
You can take the Nigger out of the Jungle, but you'll never take the Jungle out of the Nigger.
Posted by

Unknown
at 15:05
3 comments

Written by John Hardon
Notice the similarities of the women in these two video's, the faces, the voice. What does it remind you of? These two Jewess's have very similar features. Does the word RAT spring to mind?
Yes, the Jews are a separate race distinct from the Goy by their unique aptitude for everything that is vile and disgusting.
Yes they are the 'Chosen ones'. Chosen not by God but by Satan.
Posted by

Unknown
at 14:13
4 comments

George Brinton McClellan Harvey (1864 — 1928)
During a speech at a dinner in honour of the Lord Chief Justice of England Lord Reading (a.k.a. Rufus Daniel Isaacs, who was Jewish), at the Lotos Club, NYC, on the evening of Wednesday, March 27, 1918, George Harvey said:
"Let us make no more futile attempts to differentiate between Huns who command and Huns who murder. Let us put aside every compassionate thought and crush under heel every kindly sentiment. Let our one and only motto be: Kill Germans ; kill them in the greatest numbers possible and by every conceivable honourable means, not as fellow-beings, but as mad dogs who must be made to realize that they who take the sword must perish by the sword. It is the only way."
The New York Times - March 28, 1918
In late 1920, Harvey wrote a forward to a Jewish pamphlet denouncing Henry Ford and the Protocols of the Learned Elders of Zion:
"... we take pleasure in reprinting a detailed exposure of these detestable slanders upon the Jewish race, slanders based upon almost incredibly impudent forgeries and falsehoods and old wives' hobgoblin tales. They have, of course, the unmistakable German flavor,"
But in 1918 he rubbished claims of pogroms in Poland, insisting they were just German (including German-Jewish) propaganda; he claimed Lenin was a Jew—which was certainly unusual for 1918, and in September 1921, Harvey wrote to the U.S. Secretary of State Charles Evans Hughes, about political conditions in Britain, advising:
"(British Prime Minister David) Lloyd-George has intimate relations with very shrewd and powerful Jews, headed by Sir Philip Sassoon, whose mother was a Rothschild (she was the granddaughter of James Mayer de Rothschild), and who acts as the Prime Minister's Parliamentary Secretary. He is supposed to have formed a syndicate which furnished no less than one million pounds for the purchase of 'The Daily Chronicle.' These men, with the exception of Sir Philip, are with Lloyd George all the time, wherever he may be, and each of them in turn his satellites and clever, trained helpers."
Harvey was at least consistent in his hatred of all things German. Below are a few cartoons from his publication War Weekly:
Posted by

Unknown
at 12:53
0 comments

"The time has come to stop the Alex Jones 1776 Jew Talk." –Rodney Martin
In the comments section of my recent
piece
exposing Anarcho-Capitalism as yet another Jewish scam, a commenter called "Larix" spammed up the place. Though some of it is bizarre, and seems to indicate he is unclear about his own political doctrine, attempting to combine nationalist sentiment with the fundamentally internationalist Jewish doctrine of Anarcho-Capitalism/Libertarianism, I will go ahead and go through it, as he indeed makes some points that will continue to come up if they are not addressed and fully dismissed.
As part of the argument of this confused commenter is that racialism and the establishment of a racial state are somehow compatible with the Jew doctrine of Austrian School Libertarianism, let's first take a second to look at a few quotes from the father of the Austrian School, Ludwig von Mises:
Posted by

Unknown
at 12:43
0 comments

German refugees from Poland tell of their personal experiences after escaping to safety in the camps on the German side of the border. (Original German with English subs). This was reported on August 23, 1939 in this German weekly newsreel show, one full week before German troops invaded Poland on September 1st.

Translation and audio enhancement by Justice for Germans. We increased the audio volume and filtered out some of the tape noise in an attempt to make the conversations more audible. Nonetheless, some sections were still difficult to decipher. Our thanks go to our friend Hans in Germany, for bringing this video clip to our attention.

VIDEO: Die Wochenschau 1939.08.23
Posted by

Unknown
at 12:38
0 comments

From the people who bring you the 'Hitler Channel,' the same channel that purports to be about history, but engages in various forms of porn, like war porn; monster porn, always looking for Big Foot and the ultimate porn, keeping alive the LIES surrounding the Biggest Lie of the 21st Century, the FALSE FLAG/INSIDE JOB of 9/11.
That would be the History Channel, one of the chief psyops outlet for 9/11 porn, which never tires of spinning lies and fabrications about that day of infamy. Lies which are applauded by Hollywood.

Some call the History Channel the 'McDonald's' of history. Junk food for the mind.

Here's a brief description of their latest brainwashing spectacle:
They are the best-trained and most skilled military operatives in the world. Smart, versatile and agile, they look danger in the eye even in the most perilous situations. But which warriors have the quickest draw, the sharpest aim and the stamina to blow out the competition?
Welcome to Ultimate Soldier Challenge, HISTORY's first-ever military competition series, which will decide who are the best special forces in the world. Each episode pits three elite squads of military operators in head-to-head competitions as they match skills, wits and guts until only one team is left standing.
Each week we put our three teams through five grueling challenges, from urban hostage rescue to long distance sniper challenges to hand-to-hand knife fighting, all designed to simulate real world combat environments.
The show I watched was this one:
Army 82nd Airborne vs. Israelis
Two front-line warriors from the U.S. Army's 82nd Airborne unit go head to head against commandos from the Israeli Defense Force--born and bred to defend the toughest turf on Earth. They also face a "Rogue" squad of private "guns for hire" contractors. Competitions include machine gun and assault rifle shooting tests, hand-to-hand fighting with knives, and a mission to retrieve essential equipment protected by an opposition force.
The soldiers from the 82nd won. The Israeli Occupation Force was eliminated early and they really looked lost during the contest. All those years of shooting kids in the head, and their pregnant mothers in the stomach has really paid off, as these two looked almost scared when play-fighting. No wonder Israel has to set off FALSE FLAGS around the world to get others to do their dirty work, their troops are too used to hiding behind napalm, WMD's and the USA.
Real combat with real fighters, like they found out when the last time they invaded Lebanon, means defeat for these Mama's Boys.

Here's a link to a short video of this war porn.

In the end, the 82nd Airborne won, besting what the 'Hitler Channel' called contractors, or mercenary's. What I call blood-thirsty ghouls, getting paid for shooting and killing anything that moves. Which is how they lost, they actually won the contest, but lost on a technicality; they were docked points for shooting too many civilians.

Here's a 'YOUBOOB' link, since I ain't going to post a video of this porn.
Posted by

Unknown
at 12:34
0 comments

Posted by

Unknown
at 12:25
0 comments

The Last Days of the Big Lie is a documentary which debunks the disgusting liars glorified as heroes and victims in the Steven Spielberg produced, Academy Award winning "Holocaust" documentary The Last Days.

The Last Days of the Big Lie uses Spielberg's Oscar winning hoax as a jumping off point to debunk Spielberg's USC Survivors of the Shoah Visual History Foundation as well as the greater Holocaust Hoax.

Created by Eric Hunt,
HolocaustDenier.com
Posted by

Unknown
at 12:23
0 comments

Deafening silence of the mainstream media. A historic law suit is in the making. The BBC will be in the Dock in a British court accused of manipulating the news.
What is at stake is the BBC's coverage of the 9/11 attacks.
On February 25, in the small town of Horsham in the United Kingdom, there will be a rare and potentially groundbreaking opportunity for the 9/11 truth movement. Three hours of detailed 9/11 evidence is to be presented and considered in a court of law where the British Broadcasting Corporation (BBC) will be challenged over the inaccurate and biased manner in which it has portrayed the events and evidence of 9/11.
Over the last 16 months, BBC has been challenged strongly by individuals in the UK over two documentaries that they showed in September 2011 as part of the tenth anniversary of 9/11, namely '9/11: Conspiracy Road Trip' and 'The Conspiracy Files: 9/11 Ten Years On'.
Formal complaints were lodged with BBC over the inaccuracy and bias of these documentaries, which, according to 9/11 activists, was in breach of the operating requirements of BBC through their 'Royal Charter and Agreement' with the British public.
This document requires BBC to show information that is both accurate and impartial. These complaints were supported by the US-based educational charity Architects & Engineers for 9/11 Truth (AE911Truth), which submitted detailed scientific evidence to BBC to buttress the complaints. The evidence focuses in particular on the confirmed free-fall of WTC 7 and NIST's 2008 admission of this fact. In addition, over 300 AE911Truth petition signers supported these complaints by sending letters to BBC, requesting that BBC show this evidence to the public.
Not a single mainstream media has acknowledged the court case. And it is highly unlikely that the proceeding will be the object of unbiased coverage.
Posted by

Unknown
at 09:57
0 comments

British gas company Centrica's chief executive has triggered outrage among Britons by seeking to defend a massive price rise amid crippling austerity measures, local media reported.

Amid deteriorating economic situation, and a price rise of at least 6 percent at the end of last year, British bosses at the Gas Company are boasting that they boost the country's business by almost £14.1billion per year, British media reported.

Bosses also claim that
"the company's tax bills amount to £158 for every household in the UK".

"At a time of uncertain economic prospects, our activities across the UK are even more important to secure employment and contribute our fair share of tax", said Centrica chief executive Sam Laidlaw.
According to earlier reports British Gas hiked bills by 6 percent at the end of last year.
"At a time when spiralling energy bills are consumers' top financial worry, people are bound to question whether they're paying a fair price for their energy", said Richard Lloyd of consumer group Which?.
"Centrica's analysis won't change that view", he added.
Posted by

Unknown
at 09:51
0 comments

Democracy is the method of slow and
comfortable murder by the enemy Jew

.
"Democracy serves big business. Because of the expensive, competitive character of the multiparty system, democracy requires ample funds. It therefore naturally becomes the servant of the big international Jewish financiers, who enslave her by paying her. In this manner, a nation's fate is placed in the hands of a clique of bankers."
Corneliu Zelea Codreanu – For My Legionaries: The Iron Guard (1936)
Posted by

Unknown
at 09:46
0 comments

By Dr. David Duke –
The Jewish elite of Hollywood has rewarded the viciously anti-Iranian film, Argo with the Best Picture Oscar. Are we supposed to be shocked? I predicted that one from the start, but I knew it would be a close call between the sickening pro-torture film, Zero Dark Thirty, and Argo.


In the documentary, Hollywoodism, the Jewish producers of the film interview Jewish movie critic, Neil Gabler, in which he boasts of the Jewish takeover of Hollywood and along with it, American culture and values. Here are some quotes from the documentary. You can find these quotes and much more in my book, Jewish Supremacism.

* * * * * * * *

A 1998 made-for-television film documentary aired on the Arts & Entertainment cable network boasted of the preeminent Jewish role in media and the shaping of our society to their purposes. It was made by Elliot Halpern & Simcha Jacobvici Productions, and written and directed by Simcha Jacobvici. The documentary tells how Jews overcame the Gentile filmmakers such as Thomas Edison and D.W. Griffith, and gradually replaced their traditional American themes. Movies such as Griffith's Birth of a Nation which honored our traditional heritage became replaced with paeans to the immigrant and multiracialism. They interview Jewish author Neil Gabler, who frankly tells how they "devoured" the values of traditional America.

They created their own America, an America which is not the real America…But ultimately this shadow America becomes so popular and so widely disseminated that its images and its values come to devour the real America. And so the grand irony of all of Hollywood — is that Americans come to define themselves by the shadow of America that was created by the Eastern European Jewish immigrants who weren't permitted in the precincts of the real America.

The narrator goes on to say that the Hollywood Jews became almost godlike in their power and set up a system to raise their prestige in the eyes of Americans.

Where there were new gods there must be new idols. So, the studio heads began a movie guild with the lofty title of the Academy of Motion Picture Arts and Sciences. It was Mayer's brilliant idea to create the Oscars where the movie moguls' guild honor themselves by giving each other awards. In this way, they went from being a group of immigrant Jews to award-winning American producers.



The Lesson of Marlon Brando



Jewish power is such that they can make craven even the greatest of Hollywood icons. Marlon Brando is a prime example. In the early days of his acting career he was completely under the control of Jewish agents and acquaintances. Brando wrote in his autobiography that he was given an important role in a disgustingly pro-Zionist play called A Flag Is Born, written by avid Zionist Ben Hecht and directed by Luther Adler. As Brando notes,
It was essentially a piece of political propaganda advocating the creation of the state of Israel … Everyone in A Flag Is Born was Jewish except me … I did not know then that Jewish terrorists were indiscriminately killing Arabs and making refugees out of them in order to take their land … The play, as well as my friendship with the Adlers, helped make me a zealous advocate for Israel and later a kind of traveling salesman for it…
Brando then began giving propaganda speeches for a Zionist organization, and even contributed money himself to the Zionist Irgun organization, a terrorist group.
[i]


Marlon Brando later learned the truth about Zionism and dramatically changed his opinion.
"Now," he said in 1994, "I understand much more about the complexity of the situation than I did then … [ii] I sided with Jewish terrorists without acknowledging that they were killing innocent Palestinians in their effort to create the state of Israel …[iii] One of the strangest government policies is that largely because of the political influence of Jewish interests, our country has invested billions of dollars and many American lives to help Israel reclaim land that they say their ancestors occupied three thousand years ago." [iv]
During an appearance on the Larry King television show, actor Marlon Brando dared to comment that "Hollywood is run by Jews. It is owned by Jews." Brando contended that Jews are always depicted as humorous, kind, loving, and generous while they slander every other racial group, "but are ever so careful to ensure that there is never any negative image of the kike."
[v]


Jewish groups came down unmercifully on Brando, stating in their press releases that they would see to it that he "would never work again." No one in the Jewish press seemed to notice that the threats simply validated Brando's observation of their unchallenged media power. Brando became so intimidated by the onslaught of hatred and threats against him that he had to arrange an audience with Rabbi Hier of the Simon Wiesenthal Center. In probably the best acting job of his life, Brando cried and got on his knees and kissed Rabbi Hier's hands, begging for forgiveness for offending the supreme Jewish gods of the Western World. Brando publicly renounced his heresy against the new Jewish gods, and thus the Jewish high priest absolved him of his sin. Brando had become a good object lesson for famous Gentiles who might dare speak the truth about Jewish supremacism, and he has said nothing but positive things about Jews ever since.

If someone wants to understand how the Jewish supremacists maintain their almost complete media control, the Brando incident is an excellent illustration. They do it by both the carrot and the stick. They reward those Goyim who go along with their evil as they did Brando in his early career, but they are unmerciful to anyone who dares to even utter a word against them. Public figures who publicly oppose them have to be either incredibly stupid or magnificently brave. Marlon Brando naively thought that by telling the obvious truth about Israel he might endure serious criticism, but he never dreamed of the tidal wave of filth and abuse that would descend upon him. In a pitiful scene, Brando prostrated himself at the feet of his master like a whimpering dog, literally licking the hand of the tyrant that beat him.


[i] Brando, Marlon. [with Robert Lindsey] Brando. (1994). Songs My Mother Taught Me.

Random House of Canada, Toronto. P.107-111

[ii] Ibid. p.111

[iii]
Ibid. p.231
[iv]
Ibid. p.388


[v] Larry King Live. (1996). Guest: Marlon Brando. Friday, April 5.
Watch my video about the real events surrounding the death of bin Laden!
And a video proving the Jewish domination of the media.
Posted by

Unknown
at 09:40
1 comments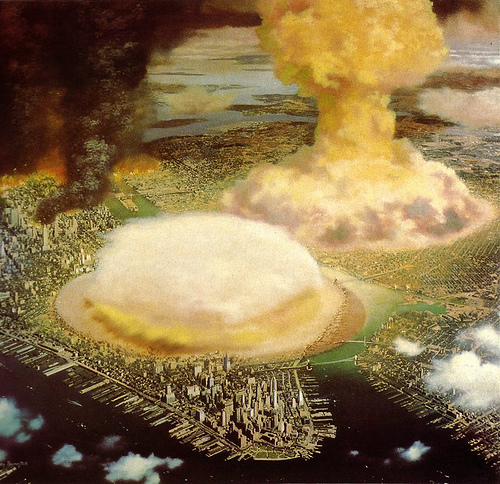 Russia Warning in St Petersburg against interference in third-party global conflicts, Medvedev said:
"At some moment such actions, which undermine sovereignty Syria, Iran, North Korea, can end with a full-fledged regional war, or even, and I don't want to scare anybody, the use of nuclear weapons.
NATO Missile Defense Forcing Russia To Take Countermeasures

February 2013 The lack of agreement on missile defense may negatively affect Russia-NATO cooperation in other areas, too, because Russian relations to the Western alliance rely on strategic stability, Russian Ambassador to NATO Alexander Grushko said in Brussels yesterday. As reported on Voice of Russia radio this morning, Grushko warned that if the nuclear balance is upset by the realization of NATO-supported U.S. plans for a stage-by-stage deployment of a missile defense system, this would strongly affect the entire range of cooperation in the framework of the Russia-NATO Council.

Russia"s probable retaliation measures to the missile defense system also were on the agenda of talks which Speaker of the State Duma Sergey Naryshkin had with French members of parliament in Paris Naryshkin stressed that Russia needs
"guarantees backed by objective technical parameters that this system will not be targeted against Russia…. When someone tells us in words that this system is not targeted against Russia but refuses to sign a legally binding agreement in deeds, this certainly raises doubts in us," he said, insisting that security should be equal for all countries and indivisible.
Naryshkin warned that Moscow "cannot twiddle its thumbs while its U.S. partners make decisions on deploying missile defense elements in Europe and putting them into practice…. But this is surely not our choice." Naryshkin said Russia will have to take measures in response to the missile defense system's deployment.
Posted by

Unknown
at 09:26
1 comments

By Frosty Wooldridge
Americans must ask themselves if Muslim-style "multiculturalism" fits into the United States of America. Can our country tolerate beheadings, be-handings, female genital mutilation, arranged marriages of 12 year old girls and murders of gays? Before 1990, no American ever experienced the barbaric ritual of beheading a person.


But since our U.S. Congress began importing a total of seven million Muslims from all over the Middle East and Africa since 1990, an ever increasing rate of "honor killings" continue to horrify Americans around the country.

This week, the New York Daily News reported Islamic violence in Buena Vista, New Jersey:
"Cops arrested Muslim Yusuf Ibrahim, 28, of Jersey City on Sunday after detectives found the bodies of the two men, aged 25 and 27, behind a home in Buena Vista Township. Their severed heads and hands were discovered at a separate burial site. The investigation into the grisly murder began Thursday following reports of suspicious activity at the Buena Vista home. Cadaver dogs located the bodies, which both suffered a single gunshot wound to their chests." (Source: New York Daily News, 2/19/13)
Muslim man accused of beheading two Christians in U.S. Torture, persecution of faithful no longer reserved for Islamic nations


Police reported in New Jersey that Yusuf Ibrahim beheaded and be-handed two Coptic Christians after shooting them. He buried them in two separate graves in Buena Vista, New Jersey.

"It's a shock, something like this doesn't happen," one resident said.

Pamela Geller, who blogs about Islam at Atlas Shrugs, said,
"It appears to have been a ritual killing, religious in nature. The victims were Coptic Christians and the murderer was Muslim, and we are painfully aware of the status and treatment of Christians under Muslim rule in Egypt."
The killings stem from Islamic law within the Quran:
"When Allah was revealing to the angels, "I am with you; so confirm the believers. I shall cast into the unbelievers' hearts terror; so cut above the necks, and cut every finger of them!" ­ Quran 8:12."
At this time, America houses seven million Muslims. They already advocate for Sharia Law within America. As their numbers grow, they will implement it with the power of the vote. They continue practicing female genital mutilation, arranged marriages, multiple wives and subjugation of their women. Detroit, Michigan harbors massive Islamic cover-up of Muslim rituals. It's become so isolated that no American law can be adjudicated. Detroit has become an Islamic country within our country.


Wherever their numbers grow, Muslims slowly and methodically overwhelm the host nation.

Muhib Ru'yat al-Rahman, a senior writer of a leading jihadi forum called "Shumoukh al-Islam", suggested,
"Muslims living in Denmark, Germany, the Netherlands and the U.S., must kill Westerners who criticize Islam, and display their decapitated heads along roads."
One Muslim Dutch-Moroccan immigrant named Muhammad Bouyeri, killed Dutch film-maker Theo Van Gogh in 2004 over the production of "Submission," a film criticizing Islam's treatment of women. Dozens of forum members praised the action, expressing their agreement with the writer's suggestions.


A majority of Americans lack any understanding or knowledge of the Muslim onslaught of much of Europe. Smaller countries like Belgium and Holland suffer complete displacement of their cultures, languages and people because Muslims out-breed them at an astounding rate of speed.

Norway houses four million people and Sweden less than five million citizens: both countries watch horrific upheaval of their laws, culture and language by Islamic immigrants. For example, 99 percent of rapes on Norwegian women stem from Muslim immigrant men. The United Kingdom and France experience similar consequences of mass Muslim immigration. To say that Islam remains a savage and barbaric religion in the 21st century can be seen as a gross understatement.


Annually in Islamic countries, Muslim fathers, husbands and brothers, following the edicts of the Koran, kill 5,000 women with impunity for "dishonoring" the family name. A woman might make a transgression by wearing jeans or she might attempt to gain an education or she might try to escape an arranged marriage because she just turned 11 years of age. Americans cannot grasp the savagery of the Koran and the men who follow it.

With the onslaught of "multiculturalism" into America from Islamic countries, Americans must ask themselves if they treasure women's rights. Gays must ask if they stand a chance of living in Muslim dominated cities like Detroit, Michigan. Women must ask if they can dress, speak and travel on their own.

Everything about Islam contradicts everything about Western democracy, free speech, religious choice and women's rights.
"Immigrants devoted to their own cultures and religions are not influenced by the secular politically correct façade that dominates academia, news-media, entertainment, education, religious and political thinking today," said James Walsh, former Associate General Counsel of the United States Immigration and Naturalization Service.
"They claim the right not to assimilate, and the day is coming when the question will be how can the United States regulate the defiantly unassimilated cultures, religions and mores of foreign lands? Such immigrants say their traditions trump the U.S. legal system. Balkanization of the United States has begun."
Join these organizations to empower you to stop mass immigration:
www.CapsWeb.org
;
www.NumbersUSA.org
;
www.TheSocialContract.com
;
www.Fairus.org
;
www.Alipacus.com
Posted by

Unknown
at 09:18
0 comments

Just as Oscar night was winding down with the most prestigious awards being handed out, something strange happened that should have alarmed every viewer; something that should have triggered a warning in the minds of every American who cares about America, freedom and the Constitution.

With no apologies and much to the chagrin of some independent thinkers, artists and movie watchers; sadly much to the delight of the Obamanite Zombies, yet simultaneously to no surprise to those who are fully awakened, the Emperor's wife popped up in the screen. Yes, the wife of the man who has trashed the Constitution, murdered American citizens without proof of guilt, trial or a jury. This was the wife of the same man whose administration has expanded the police state, the administration who is now occupying countries all of Africa and the Middle East, has launched countless wars without any moral or legal basis and the same administration which has done nothing about the Bush administration war crimes.
There she was, presenting the award for 'Best Picture' telling the audience about the importance of overcoming obstacles and conveying a positive message to the audience hoping that, (consistent with her husband's administrations policy of 'Do as I say not as I do') the audience would just emotionally attach themselves to the messenger, and judge her and her husband strictly by her words.

This may be very difficult for supporters of the current administration to wrap their heads around, but this was a classic display of Stalin-style propaganda. This is exactly the tactic dictators of the past have used to manipulate public opinion about the leader by appealing to their emotions. Once again Hollywood is fully exposed for being one of the prime mouthpieces of the [Jewish occupied] U.S. Government. For anyone even mildly awake, this was no coincidence; this was classic real-time garbage propaganda for your mind.

As expected, the Emperor's wife made no mention of the real problems in the world; no mention of the war crimes her husband is currently committing. Instead the actress stood firm in her lies, told with a smile hoping to nurture the zombie-seeds they (her and her husband) have sewn for over 4 years now since the explosion of lies Barry Soetoro unleashed on America back in 2008.

This is how tyranny and fascism works and I urge readers to take notes and share with your family and friends. This is the story of fascism in America; let us not miss a beat in telling future generations just how they did it.

This should serve as a reminder that as we observe the slow and progressive death of the mainstream media, we are also observing the emergence of Hollywood slowly becoming the primary mouthpiece of the Washington D.C. propagandists. Let us take this lesson from the Oscar awards. The stakes are very high for the Globalist Monkeys, and the Hollywood platform is now greater than ever. Let's be mindful of this (now very clear) Hollywood-Government complex that has been here all along and is now fully exposed.

Thanks to Hollywood Globalist Monkeys for showing their faces in this moment of truth and giving us a chance to expose your evil and deception.
Posted by

Unknown
at 09:04
0 comments

She recently said she's working on being more guarded with her private life.
But perhaps Kim Kardashian meant after her baby with Kanye West is born.

The couple pose nude on the cover of French fashion magazine L'Officiel Hommes, the reality star caught in an expression sure to make her daughter blush as Kanye reveals his bare back, wrapping his arms around her.

The black and white image features on the spring issue of the men's magazine, shot by Nick Knight. Its release comes just days after Kim was forced to shut down rumours she is planning her exit from Keeping Up with the Kardashians after season nine.

It had been suggested that Kim may want to leave the show following the birth of her first child [niglet] with Kanye West, after claiming her baby will not appear on television.
Related:
Kim Kardashian apologises for 'offensive' pro-Israel tweet
Posted by

Unknown
at 08:47
1 comments

Sunday, 24 February 2013
Written by Rufus
There is a Hebrew word which can be translated into English to roughly mean, Arrogance, Conceitedness, and Outrageous Gall; that word is Chutzpah.

The willingness of Jews to interfere in matters which are none of their concern is legendary. The arrogance with which they demand tolerance for their own views, but the absolute silencing of any criticism, is perhaps one of the key factors in creating hostility to the Jewish people. Anti-Jewish views do not spring from thin air; they are a natural reaction to the hatred spewed forth from within the Jewish community. Chutzpah is the well-spring of all 'anti-Semitism' - which ironically is a nonsense term created by non-Semitic Jews to silence all opponents, Semites included.
At present the Catholic Church is undergoing a selection process for the next pope, following the long-overdue resignation of the despicable Ratzinger. The selection of Pope is solely a matter for the Cardinals within the Catholic Church, and has nothing to do with anyone outside the highest levels of Rome. It certainly has nothing whatsoever to do with the Jews, or any non-Christians. In an expression of pure Chutzpah, the Jew, Alan Dershowitz, has taken it upon himself to attack Cardinal Rodriguez Maradiaga, who he claims must not be elected to the Papacy due to his comments criticising Organised Jewry.
Cardinal Rodriguez is quoted as stating:
"It certainly makes me think that in a moment in which all the attention of the mass media was focused on the Middle East, all the many injustices done against the Palestinian people, the print media and the TV in the United States became obsessed with sexual scandals that happened 40 years ago, 30 years ago. Why? I think it's also for these motives: What is the church that has received Arafat the most times and has most often confirmed the necessity of the creation of a Palestinian state? What is the church that does not accept that Jerusalem should be the indivisible capital of the State of Israel, but that it should be the capital of the three great monotheistic religions?"
The Cardinal is right. Jewish control of the media has been used to divert attention away from the crimes of Israel, and of the Zionist aggressors who control the puppet governments in Washington, London and across the European world. The Church has stood as a bulwark against the Judaisers, until recent times. Hiding the crimes of the Elders whilst simultaneously destroying the main opposition to the leaders of Jewry, is a case of killing two birds with one stone.


Dershowitz states that telling the truth about the machinations of the Talmudists is 'anti-Semitism', and that this is a sin. According to the sycophantic idolaters who have infested the Vatican, from the homosexual Zionist anti-Pope, Paul VI to the present disgraceful incumbent and architect of the anti-Christian Vatican II, Ratzinger, the Jews are a special Chosen people and criticising them is indeed a sin!. This heretical nonsense gives proof to the argument that Rome has been captured by the Talmudists, but is in no way worthy of serious consideration by anyone who has not been bamboozled to accept the anti-Christ teachings of Judæo-Christianity. Dershowitz belongs to a people which sees Christianity as the enemy, and so to use this drivel as justification for a campaign against Cardinal Rodriguez is not only disingenuous, it is an outrage. Dershowitz goes on to write:
'If Cardinal Rodriguez Maradiaga were to be elected pope, much of the good work done by recent popes in building bridges between the Catholic Church and the Jews would be endangered. This should not be allowed to happen. The campaign against this bigot must begin now before his candidacy develops more traction.'
In his own words, Dershowitz notes the depths to which Rome has sunk in its deification of the Synagogue of Satan, and admits that his hostility to Cardinal Rodriguez is nothing but an arrogant display of hatred for a Goy who will not bow down and worship his self-appointed owners. (Full article
here
).


Dictating who can and who cannot hold office in a religion to which one does not belong, is not the limit of Jewish Chutzpah. The Jews also feel they have a divine right to dictate how other peoples' countries are run. In England, an Israeli Jew has demanded that the Bradford MP, George Galloway, be removed from Parliament for not bowing down to the bandit state of Israel.
George Galloway serves a predominately Muslim constituency, and as outrageous as it is for an MP to pander to the will of colonisers on English soil, his commitment to obey the will of those who elected him, is at least democratic. When faced with the prospect of having to debate with an Israeli, and thereby recognise the Talmudic occupation of Palestine, Galloway walked out. Galloway may be a foul self-serving Marxist opportunist, but on this issue he was clearly in the right. The Israeli in question (Eylon Aslan-Levy) had the audacity to say the following:
"I am appalled that an MP would storm out of a debate with me for no reason other than my heritage. To refuse to talk to someone just because of their nationality is pure racism, and totally unacceptable for a member of parliament."
Aslan-Levy is an admirer of the child-killing IDF, the homosexual agitator and pro-pædophile rights activist Peter Tatchell, and a propagandist for war against Iran. The fully compliant UK media has failed to mention the odious nature of Aslan-Levy, instead focusing attention on Galloway. The reaction of the media to the refusal of an MP to debate with a citizen of a criminal state, has been to deflect attention away from the crimes of Israel and to libel the MP as a 'racist bigot'. This perfectly reinforces the assertion of Cardinal Rodriguez, that the Jew-controlled media is a tool for the suppression of criticism of the self-Chosen, and a vehicle for the suppression of freedom.

In perhaps the most amusing outburst of Chutzpah of recent times, the Jewish Task Force has issued a video condemning multiculturalism (which of course is a Jewish-created weapon against the Goyim), and demanding that all Black Jews be expelled from Israel. Interspersing his argument with the usual Holocaustianity hogwash, Ben-Pesach goes on to ridicule the Black Hebrews as imposters who have no right to call themselves Jews! For a Khazar to claim that his people have a right to be called Jews, but no one else does, is ludicrous.
He calls the 'Black Hebrews'
"frauds who try to steal other people's history because they are ashamed of their own".
For those who know the history of the Khazars, this statement is particularly comical, being as it could be perfectly applied to them. Ben-Pesach demands the end of free speech for the Blacks who are critical of the Khazars (and who dare to question the Holyhoax), and then with a level of Chutzpah which is truly breathtaking, demands that all the Blacks in Israel be expelled, because - unlike the Khazars - they have no right to be there!! Au Weh indeed!
If it wasn't for the fact that Organised Jewry really does have power over the cowed masses outside the inner circle of the Elders, the lunacy of the Jews would be cause for mirth. However, it is cause for concern. Are we to continue to bow and scrape to a people who are so obviously paranoid and mentally unstable, or are we to rescue ourselves and all peoples of the world who will fight alongside us against our common enemy? It really is that simple.
Posted by

Unknown
at 17:07
2 comments

There is a message, within the alleged "truth movement," that the Jews desire us to be antisemites. I assert that this is entirely false, based on distortions either purposeful or the result of extremely shoddy research and a rejection of basic logic in favor of comfortable confusion. Far from wanting us to hate them, which would be simply insane, the Jews have an obsessive desire to present themselves as nonthreatening, contributing members of their host societies.


The following quote from the man credited with popularizing the movement of political Zionism, Theodor Herzl, is very often cited by the soft and feeble "antisemites" who wish to push the idea that the Jewish problem is one of an elite ideology, rather than of race, and that the "big Jews" desire for gentiles to hate the entire Jewish race:
It is essential that the sufferings of Jews. . . become worse. . . this will assist in realization of our plans. . .I have an excellent idea. . . I shall induce anti-semites to liquidate Jewish wealth. . . The anti-semites will assist us thereby in that they will strengthen the persecution and oppression of Jews. The anti-semites shall be our best friends".
As is often the case with internet quotes passed around within the alleged truth movement, this is fake. The number of ellipses alone should have given it away. Shame on those who continue to use it as if it were accurate. Just enter this quote into Google and look at the number of sites using it. They all just copy it from one another, never providing the actual source, and then lying radio hosts continue to read it off nigh daily to support their subversive "the Jews want us to hate them" gibberish.


The actual quote looks like this:
It would be an excellent idea to call in respectable, accredited anti-Semites as liquidators of property. To the people they would vouch for the fact that we do not wish to bring about the impoverishment of the countries that we leave. At first they must not be given large fees for this; otherwise we shall spoil our instruments and make them despicable as 'stooges of the Jews'.
Later their fees will increase, and in the end we shall have only Gentile officials in the countries from which we have emigrated. The anti-Semites will become our most dependable friends, the anti-Semitic countries our allies.
Here are photographs of the original text from the 1960 English translation of The complete diaries of Theodor Herzl Vol. 1 (edited by Raphael Patai ; translated by Harry Zohn):
So the first two lines are simply lies, the rest based on what was presumably a purposeful mistranslation. Though the hoaxers have changed the quote to make it seem more extreme – and one should take serious note of this point, as it says quite a bit about the credibility of those pushing this disinformation – the basic message is there, as it is in other of Herzl's writings, and those of his supporters: directing the antisemitic sentiment of host populations will further the cause of the establishment of a Jewish state. But let us consider this context.


Herzl and his small band of supporters were pushing for the founding of an independent Jewish state, and this idea was viciously resisted by the majority of establishment Jewry in Europe, who felt they were doing quite well in their positions of power and wealth in their host nations. As such, it was for the specific purpose of encouraging Jews to emigrate from Europe that Herzl proposed the harnessing of antisemitic sentiment on that continent.

Yet, those within the "truth movement" who wish to present a soft and false form of antisemitism, twist this into somehow implying that antisemitism is universally beneficial to Jews, whatever the case. This is such an obvious distortion as to make it almost unfathomable to me that it has continued to go unquestioned for such a long period.
Why Would the Jews Want People to Hate Them?



The question of why the Jews, with their sovereign state already established, would want people to hate them is barely even broached by the traitors and imbeciles promoting this inane idea. They vaguely hint that the Jews will benefit from there being a small number of extreme antisemites who declare war against the Jews as a race, as the general public will look upon this and be turned-off by anyone softly criticizing the ideology of the Jews. This is of course too abstract and indemonstrable to be seriously considered, and even if it were true, it would have no relationship to the sentiment of pre-Israel Zionists, and thus trying to connect the two is as fundamentally dishonest as using sensationalized fake quotes to support the argument.
It possible that Herzl and succeeding political Zionists were sincere in their desire to formulate an independent Jewish state. Herzl himself did not demand that the state be placed in Palestine, and he appears to have been honestly attempting to formulate a peaceful solution to the Jewish dilemma, sensing that it was only a matter of time before the people arose against them yet again.
Those pushing this line even go so far as to claim that "Hitler was just what they wanted," and thus those of us supporting the ideology and methods of Hitler are "falling into their trap." This oft-repeated line is a mess of tangled, disconnected bits sloppily thrown together. I will go ahead and untangle it.


Firstly, though we must remember that political Zionists were, at the time, a fractional minority among the larger body of international Jewry, political Zionists did support Hitler before the war, as his antisemitism indeed served their purpose of bringing Jews out of Europe and into a sovereign Jewish state. It was a win-win situation. However, when the larger body of international Jewry, which desired to continue its parasitical practices in Europe, succeeded in launching their war of aggression against Germany, and the Jews were put in concentration camps as a security threat, Zionists obviously withdrew support.

I will note here that Zionism does not somehow encompass the entire Jewish problem, as many subversives within the "truth movement" assert, but is simply one manifestation of the plague that is the Jewish race. The fact that Hitler was attacked by the whole world proves that political Zionism was not the driving force behind international Jewry at the time; if it had been, they would have simply let Hitler peacefully deport all of the Jews to Palestine, as he had agreed to do in 1933 with the signing of the Haavara Agreement.

The bottom line is that while Israel has already been established, a large diaspora still lives in Europe and America, controlling every aspect of our societies. As the Jews have and eat their cake at present, there is no reason why even fringe members of the Jewish community would support the kind of blood and fire antisemitic movement Hitler formulated emerging in modern America.
What some Jews would probably support is certain "
Neo-Nazi
" hate groups. However, the purpose of this is mainly to obfuscate what Hitler really stood for by making it appear as if anyone demanding the expulsion of Jews is a raging maniac. Note that these groups that have been pushed by the media support the official Holocaust story, simply saying that they think it was good, and are thus not following the true doctrine of Adolf Hitler, but the image of him which the Jewish media has created. Clearly they don't support all Neo-Nazis, because while
Frank Collin
got mass media attention,
George Lincoln Rockwell
got a bullet through his chest.


Those pushing the idea that "Jews want us to hate them" mix all of these various issues up into a mess of oversimplified nonsense. The fact of the matter is that the Jews are not an ideological enemy, they are a racial enemy, and if we wish to fight them we must acknowledge this fact first and foremost. The concept of "turning people off" by being "too extreme" is ridiculous, given both that the masses will respond positively to extremism, as well as the hard reality that the situation is extreme and thus requires extreme measures. We are in a war, and war is no place for soft men.

The one thing that the Jews do not want is a NSDAP-style mass movement against them in America, because they know this is the only thing which could ever present a threat to their international system of control.
If the Jews want us to hate them, why don't they put the
Auschwitz soccer pitch on the History Channel?
If the Jews Really Wanted Us to Hate Them



As we have seen, the Jews have no reason to want people to hate them, but if they did, it surely wouldn't be difficult to achieve – all they would have to do is tell the truth.

If I was the Jew and wanted people to hate me, the first thing I would do is use my control of the media to start pushing hatred against Jews. I would start by making big budget documentary productions about the faking of the Holocaust. I would move on to using this media to explain to the people how the Jews have infiltrated and taken over every aspect of our society, and restructured our entire social, political and economic order.

I would use my control over academia to start teaching the real history of capitalism and communism – that these were Jewish inventions designed to exploit their host populations. Instead of using the universities to promote the concepts of cultural Marxism, I would insist that they be exposed as Jewish plots to destabilize and weaken Western Civilization.

Along with this, I would use my control of the televangelist industry to stop promoting Christian Zionism, and return to the classical Christian doctrine of Jews as the killers of Christ, and the antithesis of the Christian church.

This would surely cause the masses to become antisemites rather quickly, and it is well in the capacity of the Jew to make it happen.

This "the Jews want people to hate them" theory is abject nonsense, on every conceivable level. The fact of the matter is that the Jews, far from wanting people to hate them, have an obsessive desire to protect themselves by distorting who and what they are, by any means necessary.
We Should Most Surely Hate the Jews


Given all of this, my position is that we should all harbor a fanatical hatred of this diabolical race. We should hate them not for their religion, not for their actions against the Arab peoples, not even for their domination of our society. We should hate them because they are an alien species which is eternally, fundamentally opposed to who we are. We should hate them because they are our blood enemy, the devil and destroyer, who has come upon us through the ages for the sole purpose of drinking our blood. We should hate the Jew because of his race.

It is only through brutal extremism, the embracing a raw and unapologetic hatred of the Jews as a people that we can ever hope to stand against them. God is on our side in this endeavor, for the Jew stands against the natural order of the universe, against the fundamental human values of truth, justice and freedom.

We, the Aryan Race, are the force of Light in the universe, we represent the will of the Creator, and for us, there can be no outcome but absolute victory over the forces of Darkness.
Posted by

Unknown
at 16:24
0 comments