Tuesday, 26 June 2012
A leading Jewish Supremacist who has been at the forefront of "civil rights, anti-poverty, congressional reform and arms control issues since the early 1960s" has welcomed President Barack Obama's policy direction with regard to young illegal immigrants and demanded for them the right to live in America—although Israel is busy expelling illegal immigrants by force.

Writing in the Jerusalem Post, longtime activist David Cohen (who also claims to have "worked with Israeli Jewish American social justice groups for over three decades) says that Obama's recent announcement on young illegals "moved me deeply.
"I watched the president's statement on TV and heard the interviews with joyous Latina and Latino young people talking about their dreams having a chance to come true. They talked about working to have their parents become legal, too. In every respect they reflected the president's description of them: "They are Americans in their heart, in their minds, in every single way but one: on paper." Tears welled up in my eyes.
"On Saturday as I listened to the Torah portion being chanted, I read there: "One law and one ordinance both for you and for the stranger that live with you." This equal justice declaration applies to civil law. I have read it and heard it many times. I know this thought appears in the Torah 36 times, making it emphatic for the Jewish people.
"I feel proud to be a Jew and an American.
"I thought of my mother who was sent back from Ellis Island after the restrictive immigration quota laws were enacted in 1921 and 1924. She made it to Ellis Island, having survived the Russian Revolution and the Ukraine counter-revolution. She hid in cellars, her mother died there, and a bullet went through my mother's dress fortunately missing all parts of her body. When she got to Ellis Island she was further traumatized by the immigration officials applying the quotas to her because of where she was born. She was still a teenager. There she was separated from her father.
"My father, not American-born, entered the US with my mother from Canada. Neither of them had the requisite papers to prove their legality. I was born in America 75 years ago. I recall the struggles my parents went through to be citizens. My mother lived in constant fear though we were never investigated or threatened. President Obama's statement applied to them and they would have loved it.
"As American Jews, as a people accepted and welcomed by our fellow Americans, we have a special responsibility to support efforts to give people a decent chance to enjoy what we now do: safety, personal security, economic opportunity, a chance to participate and contribute to our community.
"The Obama policy masterfully uses the long-established legal practice of prosecutorial discretion, as Senator Whitehouse (D-Rhode Island) aptly put it, to enable young illegal immigrants, who are in the military or in school, to come out of the shadows, and into the sunlight, and work legally. Secretary Napolitano, in conversations with me and others, demonstrates that she and her team have thought through the plan and, most importantly, its implementation. That makes the hope real for the Dreamers helped by this change in policy.
"It will make me work even harder for the president's re-election. The Dream policy must be reaffirmed."
In other words, according to this veteran Jewish Supremacist activist, illegal immigrants must be allowed into America no matter what—but Israel appears to have the unchallenged right to expel all illegal immigrants and to officially designate them "infiltrators."

One law for Jews, another for the Gentiles.
Posted by

John Hardon
at 18:53
0 comments

Monday, 25 June 2012
Posted by

John Hardon
at 13:55
0 comments

GLAAD and Athlete Ally to Train 153 Major-League Sports Teams:
Last weekend marked the first-ever Nike LGBT Sports Summit, the purpose of which was to create a collaborative strategy among leaders in the LGBT sports movement. My takeaway for Athlete Ally and all other persons and organizations active in this space is that the depth and breadth of our impact depends upon our ability to work together.

With that sentiment in mind, I am proud to announce a new partnership between Athlete Ally and the Gay and Lesbian Alliance Against Defamation (GLAAD). In addition to Athlete Ally's current partnership with the Human Rights Campaign Foundation, which sponsors our website and online outreach, Athlete Ally is joining forces with GLAAD to offer LGBT-ally trainings to all 153 major-league sports teams in the NFL, MLB, MLS, NBA, WNBA and NHL.
Today more than ever, athletes, coaches, and fans are realizing that being welcoming, standing for inclusion, and ending bullying are the right things to do. Professional players and sports franchises have the power to affirm, connect, and inspire people around the world by taking small steps based on simple ideas like integrity and respect.

As GLAAD President Herndon Graddick notes, "This is not about politics, it's about being respectful of fans, personnel, and athletes of all levels who just happen to be LGBT." Through our partnership with GLAAD, we will work with professional sports in ways that focus less on specific issues like marriage and more on building successful sports programs through respectful and inclusive dialogues, policies, and practices.

With over 40 Athlete Ally Ambassador Programs at colleges and universities around the country, Athlete Ally has seen major progress unfold within dozens of collegiate sports programs, and we are delighted to be collaborating with GLAAD to make similar strides in professional sports.

Athlete Ally Intro Video


Posted by

John Hardon
at 13:35
0 comments

Posted by

John Hardon
at 13:32
0 comments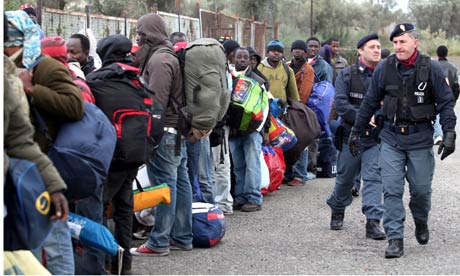 Immigrants leaving Rosarno
ARTICLE IS FROM 2010...UNKNOWN IF TOWN STILL CLEARED OF TURDMEN:

Authorities remove all remaining immigrants out of Rosarno for own protection after locals unleash bloody ethnic cleansing.

Rosarno in southern Italy had, by last night, been turned into what one politician termed the world's only entirely white town after a bloody ethnic cleansing that produced scenes reminiscent of the old American deep south.

As bulldozers got to work to obliterate shacks belonging to the itinerant crop-pickers who had fled, the last of more than 1,000 such workers were being removed from the area for their own protection.

After two days and nights of violence that began with the apparently motiveless shooting of two African workers, the number of injured stood at 53, comprising 18 police, 14 local people and 21 immigrants, eight of whom were in hospital.

Some of the crop-pickers had been shot; others had been beaten with metal bars or wooden clubs as local people took indiscriminate vengeance after a riot of Thursday in which more than 100 Africans caused extensive damage in the town to protest at the shootings.

Those who fled included several hundred people who had agreed to be taken to government-run centres after reportedly being given assurances they would not be deported if found to be illegally in Italy.

But Silvio Berlusconi's interior minister, Roberto Maroni, said yesterday that they would, in fact, be expelled. "The law is implemented and nothing else can be done," he told a television interviewer.

A centre for asylum seekers near Bari took 324 immigrants, mostly Ghanaians. The city's prefect said that more than half of those whose cases had been examined had temporary residence permits. The others were destined for internment at a so-called centre for identification and expulsion.

In his traditional Sunday sermon to the crowd in St Peter's square yesterday, the pope said: "Immigrants are human beings, different in culture and traditions, but nevertheless to be respected. Violence ought never to be the way for anyone to resolve the difficulties." (FINE, THEN THEY'LL MOVE INTO THE BASILLICA WITH YOU, WADDYA SAY??)

Addressing his parishioners in Rosarno, the local priest, Father Pino Varra, said the immigrants had erred. "But that does not give us the right to beat them, chase them, kill them or drive them out." (YES IT DOES, ACTUALLY...IT'S CALLED SELF-PRESERVATION)

Maroni criticised local authorities for turning a blind eye to the widespread, irregular use of immigrant labour, adding that they had created communities of foreigners that were "bombs primed to go off". (OR CESSPOOLS READY TO BURST, FOR A MORE COLORFUL DESCRIPTOR)

A junior minister in the previous, centre-left government, Luigi Manconi, commented ironically that Rosarno was now "the only wholly white town in the world. Not even South African apartheid obtained such a result." And he asked: "Who now will pick the oranges?"(HOW ABOUT ROTATING WORK BRIGADES OF SCHOOL KIDS LEARNING THE VALUE OF HARD WORK OR MAYBE PRISON GANGS. HOW THE F**K DID THE "ORANGES GET PICKED" BEFORE THE SHITSKINS WERE IMPORTED???)

But, perhaps explaining the crop-pickers' frustration (THE WHOLE F**KING RACE IS ALWAYS "FRUSTRATED" OR "ENRAGED", AREN'T THEY?) and the eagerness of some locals to get rid of their immigrant workforce, the Calabrian citrus industry has been in crisis due to a fall in prices, according to Antonio Lupini, vice-president of the local farmers association. He told the daily Corriere della Sera that 800m kilograms of citrus fruit were rotting on the trees. (F**K THE ORANGES AND ENJOY THE WHITENESS)

http://www.eutimes.net/2010/07/southern-italian-to...
Posted by

John Hardon
at 13:31
0 comments

The comment below appeared on American Thinker, and it probably will get removed by the moderators because it is too honest.
"It's an entirely new game and we brought it on ourselves with our lax immigration policies. We are now going to have the first Latino Prez, then the first Asian Prez, the first MiddleEastern Prez and each constituency will shake the system down to finally get "theirs".

It's over for America as it once existed. Everything we and our ancestors fought and died for is being devoured by a desperate and hungry world.



Multiculturalism is a great thing for anyone who isn't white. Multiculturalism was invented by non-whites to conquer whites. Political correctness, a very effective anesthesia, has muffled our screams and rendered us mute. The culture of white American [sic] is being destroyed and dismantled and if we complain we get another injection of "racist" to shut us up again.''
I don't agree with his pessimistic assertion that it's ''all over for America''; if I believed that, I would not be blogging or even bothering to think about all these issues. I'd just be enjoying life, oblivous to all these things; why not, if it's all over?

But what he says about the weapons of multiculturalism and political correctness are true, as I am sure most of my readers would agree.

Incidentally, the discussion to which this comment was appended was a ''birther'' article, as detractors would call it. Is the multiculturalist system irrelevant to that subject? No. I'd say it's relevant to just about every big issue we have to deal with today: the economy, (immigration, social programs for 'victim groups, etc.), the environment and shrinking resources, and yes, the elections and the 'birther' story. All of it is bound up with the fact that we are caught up in this system of lies and cover-ups, all facilitated by political correctness. If we don't recognize how it all is part of a pattern, we'll never get anywhere.
Posted by

John Hardon
at 13:30
0 comments

Posted by

John Hardon
at 13:26
0 comments

Jewish Supremacists "led" the fight against racial segregation in the U.S. and Europe, but apply strict racial segregation between Arabs and Jews at schools in Israel, a new report has revealed.

Writing in the liberal-leaning Haaretz newspaper in Israel, Princeton graduate and correspondent Rivka Cohen said that "In one clear step, Israel's Education Minister has demonstrated that the separate Jewish and Muslim school systems have nothing to do with preserving an autonomous space for Jewish and for Arab culture, but rather – plain segregation.

"According to Israel's Student Rights Law, educational facilities must not be segregated on ethnic or political grounds. In the case in question, Noar KeHalacha v. Ministry of Education, a group of Sephardi families protested the separation of their daughters from their Ashkenazi peers in two different academic tracks," the article continued.

Quoting a Jewish judge, one Justice Melcer, the article points out that the court's decision allowed for the "filtering school choices according to a strong religious preference, such as a child seeking admission to "an Orthodox Jewish school or a religious Arab school" – and what should be seen as a far wider application of discriminatory entrance policies to an unspecified range of Jewish or Muslim schools.

"These ambiguous criteria would allow Arab students to be excluded from any Jewish school considered to be "a certain kind of Jewish school," potentially including public state secular schools in the Jewish sector. The same would apply to Jewish students seeking enrollment in Arab schools."

The article goes on to point out that "Israelis may well feel incredulity on reading that a Jewish student might seek enrollment in the Arab sector, or an Arab student in the secular Jewish one. This itself is a warning sign of the ease with which widespread segregation is accepted as natural in Israel's schools."

The effect of the court's ruling was to say that the segregation of Sephardi and Ashkenazi children, even if it is partial and officially voluntary, is illegal, but the near-absolute segregation of Arab and Jewish students is legitimate.
Posted by

John Hardon
at 13:14
0 comments