Tuesday, 15 February 2011
'The Obama administration is to propose a $37 billion increase in federal spending for the Department of Homeland Security, earmarking funds for more radiation firing naked body scanners in airports around the country.
The DHS' budget will grow by almost 3 percent over the 2011 budget level, as Reuters reports, while the overall national security budget will increase by almost 2 percent. The 2012 budget proposal requests $43.8 billion for homeland security across the entire federal government, excluding the Defense Department, up $800 million from 2011.'
Posted by

John Hardon
at 14:18
0 comments

Monday, 14 February 2011
Mumtaz Qadri tells court he killed Punjab governor because the vocal critic of Pakistan's blasphemy laws was 'an apostate'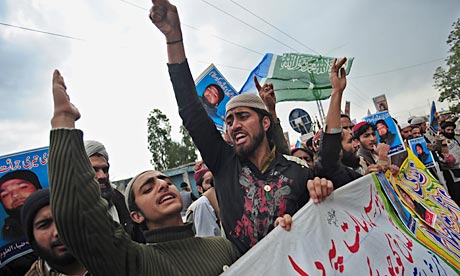 Supporters of Mumtaz Qadri shout slogans outside
the prison in Rawalpindi where he is held.
The killer of a liberal Pakistani governor has pleaded guilty to murder, telling a judge he did not regret gunning down the politician because he killed "an apostate" as required under his interpretation of Islamic law, lawyers said.
Mumtaz Qadri shot dead
Salmaan Taseer
, governor of Punjab province, in January while serving as part of his security escort. Qadri has told authorities he killed Taseer because the governor spoke out against
Pakistan
's blasphemy laws which impose the death sentence for insulting
Islam
.
The assassination horrified the country's liberal elite, but many in the wider population – including the religious establishment and some in legal circles – have praised Qadri.
Posted by

John Hardon
at 14:39
0 comments

Decision to maintain aid of £280m a year likely to infuriate some MPs, who believe UK should not give aid to a nation that spends £20bn a year on defence and has its own space programme.
The government today defended its decision to give £1bn in
aid to India
, despite the rapidly increasing wealth of the emerging economic giant.
A review of UK
aid
will maintain aid donations to
India
of £280m a year until 2015, while withdrawing assistance from countries such as Vietnam, Cambodia, Serbia and Moldova, revealed the international development secretary, Andrew Mitchell.
The decision is likely to infuriate some Conservative MPs, who believe it is time to halt aid to India, which has economic growth of 8.5% a year, gives aid of its own to Africa, spends £20bn a year on defence and has a
£1.25bn space programme
.
Posted by

John Hardon
at 14:34
0 comments

Posted by

John Hardon
at 14:27
0 comments

Posted by

John Hardon
at 14:04
0 comments

Hook-nosed Khazars like this guy, always put IsraHELL first. Another shining example of why these people are the planet's biggest hypocrites! [INCOG]
The saturation of the Holocaust has been used as an effective weapon in support of violence, torture and murder against the Palestinians. Even though Palestinians certainly had no part of any crimes against Jews during the Second World War, the Holocaust is incessantly invoked to justify mass terror and murder against the Palestinian people. Recently this was shown by Elie Wiesel's support of the murder and maiming of thousands of Palestinian men, women and children in Gaza.
Now, we have a Holocaust historian and former Israeli kibbutznik, "Professor
David Cesarani
, floating the idea of there being a
Tiananmen Square-style massacre in Egypt as a way of quelling potential post-Mubarak anarchy. Are academics such as Cesarani really interested in defending human rights by their writing on the Holocaust when they support the violence and inhumanity by the Jewish supremacist state? You be the judge.
Posted by

John Hardon
at 13:39
0 comments

Just take a look at this White-hating Jewess bitch! Haven't you had enough of these creeps?
An interview with a radical leftist in Germany has caused a wave of anger among conservative European websites. Anetta Kahane is a German born Jew and the sister of film director Peter Kahane. She was employed as a "foreign agent" for the municipality of East Berlin tasked with spreading Communist ideology to Latin America. She received numerous awards from the Communist regime for her efforts. Today she is involved with several radical Marxist groups.
In her interview with liberal RT (The Russian version of CNN), she puts all her cards on the table, and confirms what the CofCC and others have been telling you all along. She openly calls for an end to European nationhood as we know it, "to make it better." She demands that every European country throw open its borders until any concept of "a white country" disappears.
RT video where the Jewess SPEWS the Jew line. It works like this: Asia for Asians, Africa for Africans, Israel for Jews, White countries for everyone. And it's not just Marxist Jews like this one, either. These Jewish efforts are exactly why our countries are now being turned into Third World hellholes!
Posted by

John Hardon
at 13:32
1 comments

Prince Charles's speech in Brussels last week shows him still clinging to climate change orthodoxy, says Christopher Booker
Flanked by the panjandrums of our European government, the Prince of Wales once again held forth in Brussels last week on the favourite bee in his bonnet, global warming. He bemused MEPs with a welter of dubious statistics, called for a drastic reduction in our economic standard of living [That's great coming from an illuminati scumbag that will never want for anything] and ended with a swipe at those heretics of our time, the "climate change sceptics" who are corroding public debate by daring to "deny the vast body of scientific opinion that shows beyond any reasonable doubt that global warming has been exacerbated by human industrialised activity".
Posted by

John Hardon
at 13:15
1 comments

HUNGER is what has driven uprisings from Bolivia and Venezuela to Tunisia and Egypt and it is that same Hunger that will keep the passion alive, in the chain of all the other nations that are still boiling with revolt. (1)
These uprising will not stop with Egypt, because the last eighteen days of that uprising firmly lit the fuse of revolt around the world-and that's a fact! This new power as exemplified by the Egyptians is not an isolated event, nor can it be relegated to something as simple as the Illustration above of the Dictator and the Chosen leader, because far to many of the rest of us are also totally corrupt as well as is the leadership of so many other nations that want the world to believe they are not just criminally-biased corruption-schemes.
Somehow it seems that many on-line-observers of this Egyptian phenomenon have totally missed the real passion beneath what has just begun in Egypt. What is happening has to do with the GLOBAL-PRICE of FOOD that is rising around the world to the point that if it is not brought down-this will lead directly to either global starvation for everyone except the elites and their direct supporters: Or to all out REVOLUTION!
Posted by

John Hardon
at 12:15
0 comments

'The poor in the Egyptian capital's urban slums live in almost the same manner as they did under the pharaohs, a Press TV correspondent reported Sunday. There are over 50 cemeteries in Cairo, Muslim and Christian, and all of them are inhabited by several million people who constitute the absolute bottom of Egypt's social structure, the report added.
The five major cemeteries in the capital include the Northern Cemetery, Bab el Nasr Cemetery, the Southern Cemetery, the Cemetery of the Great, and Bab el Wazir Cemetery. They are known as the "City of the Dead." According to the correspondent, they live mostly on the charity of those visiting departed relatives.'

Posted by

John Hardon
at 12:10
0 comments

Millions of households are being overcharged for gas because of inaccurate meters, a leaked report has revealed.
One in six of National Grid's older meters were over-registering and almost all of those tested had 'accuracy problems', according to the report.
An average customer affected by the problem would unwittingly pay £26 a year too much for gas - netting the industry millions of pounds each year.
Posted by

John Hardon
at 12:04
0 comments

'By the end of 2012, I predict significant food supply disruptions in North America, brought about either by radical weather affecting crop yields or perhaps the invasion of disease indirectly caused by the over-use of pesticides or GMOs.
The number of people in America struggling to feed themselves and their families will rise along with food prices. ...Expect to see food prices climb with alarming speed over the next two years. While food won't disappear, it will become significantly more expensive, causing more people to shift to subsidized foods (corn, sugar, etc.) which also happen to be some of the worst foods for your health.
Now there's news from Mexico that the fresh produce normally shipped to U.S. grocery stores has been largely destroyed by the freak cold weather snap that struck the continental United States over the past 10 days. As a result, prices on cucumbers, zucchini, peppers, tomatoes and asparagus are set to double or triple starting right now.'
Posted by

John Hardon
at 12:01
0 comments

Posted by

John Hardon
at 11:53
0 comments

Posted by

John Hardon
at 11:51
0 comments

Ron Paul constantly reminds us that money is created out of thin air, which is to say it's an illusion. Therefore, the debt must be an illusion too, correct? Yet, fiscal conservatives still use the debt as a tool of fear to make budget cuts that they selectively deem expendable.

Sure, they may think these cuts make them look "responsible," but ultimately it is still collectivism -- just more on their terms. Make no mistake; budget cuts in our corrupt system are just another form of wealth redistribution. After all, that money is being eliminated to pay off the debt, right? Thus, that money is removed from programs that employ people to pay off the issuers of credit (banks).

Additionally, the costs of the national debt, bank bailouts, war costs, and unfunded liabilities are fundamentally impossible to pay off. So, the notion that cutting a

"historical" $100 billion

will have any positive affect on the long-term economy is absolute fiction. And although many conservative lawmakers feel like it's the right thing to do, they know it will have no measurable affect on the debt. It's a scam, and if the history of modern lawmaking is any indicator, the establishment will surely stick it to the poor and middle classes with these cuts while the oligarchs continue to flourish.
Posted by

John Hardon
at 11:40
0 comments

THE RECENT ATTACK ON JIMMY CARTER
completes the Zionist full-spectrum assault on White America.
The last frontier in Jewry's conquest of Western society — the power bloc with the potential to oppose the Zionist agenda — is the American Middle Class.
All other facets of our society are now safely in the hands of the Jews: Finance, Monetary policy, Press & Media, Education, Academia, Politics, Domestic & Foreign policy, and Culture.
As always, whenever a Gentile figure emerges with a view that doesn't pass muster with the prevailing Jewish world view, a full onslaught of Judaic venom spews forth.
Symbolic of Jewry's dismantling of the White Middle Class is its recent attacks on Jimmy Carter, Stephen Walt, Helen Thomas, and Zbigniew Brzezinski.
These four white Gentile Americans are emblematic of the four main institutions targeted by American Jewry:
-1-
The Church
(Carter is an avowed evangelical Christian)

-2-

Academia
(Walt is a Harvard professor)

-3-

The Press
(Thomas was a legendary White House Correspondent)

-4-

Foreign Policy
(Brzezinski is, of course, the high-profile foreign policy analyst and Globalist string-puller).
Posted by

John Hardon
at 11:34
0 comments

'Ministers still do not know when wind power will pay for itself, the Government admitted tonight. Energy Minister Charles Hendry told MPs governments had spent £2.2 billion supporting wind power over eight years - and it was impossible to predict when the energy source would prove profitable without grants.
He said: 'We expect that over time we will be able to reduce support for wind power and other renewable energy technologies as they become more economic, but it is not possible to put a specific timescale on this.'
Posted by

John Hardon
at 11:29
0 comments

Posted by

John Hardon
at 11:25
0 comments

'Last November I was invited to meet Tim Loughton, our Children's Minister, for what turned out to be an hour-long, off-the-record interview. I was pleased to accept, thinking he would want to discuss the many examples I have reported of how our system of "child protection" has gone horribly off the rails.
I have investigated dozens of such cases, where children are forcibly seized by social workers from loving parents, who find themselves treated like criminals by police, judges, lawyers and "experts" who all seem part of a system rigged against them. All these cases show a similar pattern, in which the basic principles of British justice seem to be stood on their head – a national scandal which can only continue because its workings are hidden behind such a wall of secrecy.
When I met the minister, however, I was disturbed to find that he did not seem to want to discuss what my researches had brought to light. His only concern seemed to be to dismiss the cases I had reported as being a tiny minority of exceptions, wholly unrepresentative of a system which is otherwise working fine.'
Posted by

John Hardon
at 11:23
0 comments

A gypsy family who have 12 children are to move to their 12th council house in the same number of years after local residents were angered by their behaviour.
Tom O'Leary, 42, and 39-year-old wife Tanya Welch are to be kicked out of a £1.2million house in Muswell Hill, north London, after abusing neighbours and littering.
Haringey Council received at least 28 complaints about the family and has moved to evict the family but will still have to rehome them due to council regulations.
Posted by

John Hardon
at 11:17
0 comments

155,000 illegal immigrants qualified for sickness benefits and maternity pay
Work and Pensions Department did not ask for work permits when assessing certain claims
Tens of thousands of workers with no right to be in Britain have been claiming benefits thanks to an extraordinary loophole in the law.
Ministers have discovered that Labour allowed 155,000 illegal immigrants to qualify for sickness benefits and maternity pay. Government sources put the cost to the public purse at 'tens of millions of pounds'.
They say the shambles is a damning indictment of how Labour lost control of both the benefits and immigration systems with taxpayers left to foot the bill. Work and Pensions Secretary Iain Duncan Smith will outlaw the practice in welfare reform legislation expected to be unveiled this week.
Ministers believe most of those abusing the system came to work in Britain for a limited period and overstayed their visa. Others managed to get a job without a work permit.
At present, someone could be illegally in the UK and able to claim Employment and Support Allowance (ESA), paid to those too sick to work, as well as statutory payments such as maternity or paternity pay and sick pay.
Posted by

John Hardon
at 11:10
0 comments

Sunday, 13 February 2011
"We are on the verge of a global transformation. All we need is the right major crisis and the nations will accept the New World Order." - David Rockefeller
"We can't be so fixated on our desire to preserve the rights of ordinary Americans." - Bill Clinton
We must strengthen the United Nations as a first step toward a World Government, patterned after our Own Government with a legislature, executive and judiciary and police. - Walter Cronkite
There is a power so organized, so subtle, so complete, and so pervasive, that they had better not speak above their breath when they speak in condemnation of it." - Woodrow Wilson
By the time you become the leader of a country, someone else makes all the decisions. You may find you can get away with Virtual Presidents, Virtual Prime Ministers, and Virtual Everything. - Bill Clinton
The easiest way to gain control of the population is to carry out acts of terror. The public will clamor for such laws if the personal security is threatened. - Joseph Stalin
When the Government fears the people, there is Liberty . When the people fear the Government there is Tyranny. - Unknown
The real rulers of Washington are Invisible and exercise power from behind the scenes. - Justice Felix Frankfurter - US Supreme Court Justice
"Give me control of a Nation's money and I care not who makes the laws." - Mayer Amschel Bauer (Rothschild)
"The meaning of peace is the absence of opposition to socialism." - Karl Marx
"We shall have World Government. Whether or not we like it. The only Question is whether World Government will be achieved by conquest or consent." - James Paul Warburg , Foreign agent for the Rothschild dynasty - Major Player in the Federal Reserve act scam / Feb. 17, 1950 speaking before the U.S. Senate.
"We are grateful to the Washington Post, the NY Times, Time Magazine, and other great publications whose directors have attended our meetings, and respected their promises of discretion for almost 40 years. It would have been impossible for us to develop OUR PLAN for the world if we had been subjected to the lights of publicity during those years. But, the world is now more sophisticated and prepared to march towards a World Government. The supranational sovereignty of an intellectual ELITE and World Bankers is surely preferable to the national auto - determination practiced in past centuries." - David Rockefeller CFR Kingpin, Founder of the Trilateral Commission, NOW Godfather / June 1991
"The age of Nations must end... The Government of nations has decided to order their separate sovereignties into ONE GOVERNMENT to which they surrender their arms." - United Nation's World Constitution
"The Technetronic era involves the gradual appearance of a more CONTROLLED society. Such a society would be dominated by ELITE, unrestrained by traditional values." - Zbigniew Brezhinsky , Advisor to 5 U.S. Presidents - Executive Director Trilateral Commission. "Between two Ages"
"For more than a century, ideological extremists at either end of the political spectrum have seized upon well-publicized incidents to attack the Rockefeller family for the inordinate influence they claim we wield over American political and economic institutions. Some even believe we are part of a secret cabal working against the best interests of the United States, characterizing my family and me as 'internationalists' and of conspiring with others around the world to build a more integrated global political and economic structure - one world, if you will. If that's the charge, I stand guilty, and I am proud of it." - David Rockefeller, Memoirs , 2002
"Stop throwing the Constitution in my face! It's just a [expletive deleted] piece of paper!" - George Bush
"Every time we do something, you tell me America will do this and will do that . . . I want to tell you something very clear: Don't worry about American pressure on Israel . We, the Jewish people, control America , and the Americans know it." - Ariel Sharon , October 3, 2001
"The individual is handicapped by coming face to face with a conspiracy so monstrous he cannot believe it exists." -- J. Edgar Hoover, FBI Director (America is faced with SEVERAL monstrous conspiracies and they are NOT "theories.")
Posted by

John Hardon
at 18:25
0 comments

"Today, America would be outraged if UN troops entered Los Angeles to restore order.

Tomorrow they will be grateful! This is especially true if they were told that there was an outside threat from beyond, whether real or promulgated, that threatened our very existence. It is then that all people of the world will plead to deliver them from this evil. The one thing every man fears is the unknown. When presented with this scenario, individual rights will be willingly relinquished for the guarantee of their well-being granted to them by the world government." -

Henry Kissinger

(Bilderburg Conference 1991 Evians, France)
Posted by

John Hardon
at 18:06
0 comments

Celente's accurate forecasts include the 1987 stock market crash, the collapse of the Soviet Union in 1991, the 1997 Asian
currency
crash" and "the 2007 subprime mortgage scandal."
His forecasts since 1993 have included predictions about terrorism, economic collapses and war. More recent forecasts involve fascism in the United States, food riots and tax revolts.
Celente has long predicted global anti-Americanism, a failing economy and immigration woes in the U.S.[13] In December 2007 Celente wrote, "Failing banks, busted brokerages, toppled corporate giants, bankrupt cities, states in default, foreign creditors cashing out of US securities … whatever the spark, the stage is set for panic in the streets" and "Just as the Twin Towers collapsed from the top down, so too will the U.S. economy … when the giant firms fall, theyll crush the man on the street." He has also predicted tax revolts.
In November 2008 Celente appeared on Fox Business Network and predicted economic depression, tax rebellions and food riots in the United States by 2012. Celente also predicted an "economic 9/11″ and a "panic of 2008." In 2009 Celente predicted turmoil which he described as "Obamageddon" and he was a popular guest on conservative cable-
TV
shows
such as Fox News Sunday and Glenn Beck's television program. In April 2009 Celente wrote, "Wall Street controls our financial lives; the media manipulates our minds.
These systems cannot be changed from within. There is no alternative. Without a revolution, these institutions will bankrupt the country, keep fighting failed wars, start new ones, and hold us in perpetual intellectual subjugation." He appeared on the Glenn Beck show and criticized the U.S. stimulus plan of 2009, calling government controlled capitalism "fascism" and saying shopping malls in the U.S. would become "ghost malls." Celente has said, "smaller communities, the smaller groups, the smaller states, the more self-sustaining communities, will 'weather the crisis in style' as big cities and hypertrophic suburbias descend into misery and conflict," and forecasts "a downsizing of America."
Posted by

John Hardon
at 17:32
0 comments

Posted by

John Hardon
at 16:15
0 comments

'Al Hallor, the assistant port director and an officer with Customs and Border Protection has openly admitted that an unnamed government agency has found a nuclear weapon or weapon of mass effect at a U.S. port in the last year!
That's right, an assistant port director has spilled the beans on a possible major government cover up. During the conversation the port authority press agent continually interrupted the officer in an attempt to get him to shut up.'
Hardons comment:
I said a couple of months ago that the next 'False Flag' Attack will probably the detonation of a Nuclear Device on American soil to up the anti on the 'War on Terror' giving them the excuse to force Americans to endure a totalitarian Police State.
Posted by

John Hardon
at 16:13
0 comments

Are US Citizens being attacked in their homes by Drones?
"What are the odds that Jacqueline Grieg, a whistle blower advocating for customers of PG&E, was at home in San Bruno at the epicenter of the "explosion" and died that day, along with her 13 year old daughter."
On September 9, 2010, a natural gas pipeline in San Bruno California exploded, killing 8 people, injuring dozens, and destroying over 38 homes. Multiple eyewitness accounts stated that the explosion resulted from a jet crash. To see extensive documentation and photos of that jet and the crash see the article
"Was San Bruno Explosion a Plane Crash?"


What are the odds that Jacqueline Grieg, a whistle blower advocating for customers of PG&E, was at home in San Bruno at the epicenter of the "explosion" and died that day, along with her 13 year old daughter. She had previously exposed PG&E for proposing a cost for pipeline upgrades at a rate increase of $4.2 billion, which her research revealed was exaggerated by $3.2 billion. What are the odds of her house being "ground zero" for that blast?

This author has been following the pathetic cover-up ever since, knowing that sooner or later the reason (money) would become evident. David Griscom, Research Physicist at Naval Research Laboratory (NRL), Washington, DC, from 1967-2001 writes in,
"The Folks that Brought Us the 9/11 Aerial Attacks Are Back Again: Erin Brockovich's Successor Assassinated by a Bomb-Laden Drone Fighter Aircraft":
"As for why anyone would want to murder Jacqueline Greig, my friend Paul Lehto ran down this info: Jacqueline Greig was "..a 17 year veteran with the Public Utilities Commission and specifically the lead of the natural gas section of analysts who devoted their careers to the statutory mission of the DRA (Division of Ratepayer Advocates) of minimizing costs to ratepayers consistent with good safety and consumer protection. Greig spent the summer analyzing the PG&E's request for a $4.2 billion rate increase."
Posted by

John Hardon
at 16:03
0 comments

Just four years. That's how long Albert Einstein reportedly said the human race would last in a world without bees. For the master of relativity, the equation was relatively simple: no more bees = no more people. And while there is debate over whether the great physicist made the claim, no one disputes that we would be in serious trouble were bees to disappear.
I had no idea then that these extraordinarily productive creatures, whose very name is a byword for busyness, whose hives are synonymous with 'industry', do far more than just make honey. In fact, they are responsible, via pollination, for one third of the food we eat.
Posted by

John Hardon
at 15:55
0 comments

'Clashes erupted after police prevented thousands of protesters from heading to Martyrs' Square. The rally called for political reforms and a change of government.
This comes after protests in the Kabylie region left eight dead and hundreds of others wounded. Protesters also demanded the government lift the 20-year state of emergency and release prisoners arrested during last month's riots. The government has banned protests in the capital Algiers since 2001.'
Posted by

John Hardon
at 15:47
0 comments

'Compared to the Egyptian revolution's extraordinary toppling of the dictator Mubarak, the people's occupation of the country's public spaces, the workers' strikes and the array of emotions pouring forth (everything from anger to exhilaration), Britain appears to be in a state of denial, despite the fact that revolutionary impulses may well be the only valid response to the coalition government's unprecedented assault on almost every aspect of British society — hard-pressed middle class and working class people, students, schoolchildren, the working poor, the unemployed and the disabled; everyone, in fact, except the rich and the super-rich.'
Posted by

John Hardon
at 15:43
0 comments

Who said these words? 'Approximately 20 to 33 per cent of child sexual abuse is homosexual in nature.' I will tell you.
It was the Home Office, on Page 14 of Sex Offending Against Children: Understanding The Risk, published by the Policing and Reducing Crime Unit in 1998. I have a copy.
Sacked: Dr Raabe
For saying roughly the same thing, Dr Hans-Christian Raabe has just been sacked – by the Home Office – from the Advisory Council on the Misuse of Drugs (ACMD). That's right. He has been sacked from a body to do with drugs, for having unfashionable views about sex, views that the Home Office has itself espoused.
A pathetic creature called James Brokenshire has allowed his name to be put to the letter that formally dismisses Dr Raabe. This is the first known instance of anyone being fired from a Government post under the provisions of Harriet Harman's Equality Act 2010, Section 149, though I don't think it will be the last.
Mr Broken Reed did not actually sign the wretched epistle, as a smudged rubber stamp indicates. I don't blame him. It is a cowardly document and so sloppily prepared it even manages to misspell Dr Raabe's address.
Posted by

John Hardon
at 15:39
0 comments

'Surprise. Military brass don't like chemtrails either. So they stopped them for 3 days in San Diego this week while they enjoyed their multi-million dollar taxpayer-funded festivities. Sort of the Oscars for the military elite you might say.
Besides, while setting up with exotic boats and planes, bringing in dignitaries and the like, you'd hate to have pesky hazy, toxic days for your guests and families. And while the elaborate air show was going on it wouldn't be convenient to be competing with other Navy/NATO/covert aerosol planes, normally seen almost daily spraying the vicinity, state, country and world, would it?'
Posted by

John Hardon
at 15:33
0 comments