Tuesday, 16 November 2010
A US Army staff sergeant, now serving in Afghanistan, writes about the new enhanced pat-down procedure from the TSA. Summary of his very powerful message: to avoid giving gross offense to the Afghan public, and to prevent the appearance of an uncontrolled security state, the US military forbids use on Afghan civilians of the very practices the TSA is now making routine for civilian travelers at US airports.
Posted by

John Hardon
at 20:47
0 comments

Monday, 15 November 2010
Posted by

John Hardon
at 22:42
0 comments

Palestine Before and After - video
Posted by

John Hardon
at 22:36
0 comments

Posted by

John Hardon
at 22:28
0 comments

A TSA agent had just felt up my balls as I boarded a plane. I felt seriously fucking violated but I needed to board that red eye so I kept my mouth shut and got myself molested in the interest of 'getting where I needed to be in a harsh economy'. I handed over my boarding card and got directed to my seat. I stuck my carry on luggage into the overhead compartment. I chit chatted with the random guy who sat next to me. Both of us were uneasy as we whipped out our laptops. After all, either of us could have a strip of semtex explosive instead of a lithium battery installed. Not that the TSA would know any better. And I realized...

Airport security is theater.

The necessary fiction of modern life.

I then came to a sudden realization as I tested my flotation device, that if I were an actual terrorist boarding a flight in any American airport, why would I waste my time trying to fool the TSA and smuggle a 'bomb' on board a plane when I could cause far more havoc by simply taking the same bomb and walking to the busiest local shopping mall, tossing my bomb in a rubbish bin at the food court and walking slowly away.

BOOM!

The 'terrorists' have just made every shopping facility in America a no go area. The greatest hit to a consumer economy ever! Why, if the terrorist threat is so real, are soft targets like shopping malls not blowing up every week? A true terrorist would simply bypass flying and blow up soft civilian targets. If Al Qaida are so prevalent, and the war on terror is real, then why are Al Qaida wasting their time smuggling bombs onto airplanes?

There are so many soft targets that could do far more economic damage.

Why are they not happening?

Oh shit, as the author of this entire piece, I suddenly realize how shit gets skewed.
Source...
This is OSAMA BIN SHOPPIN, the gay terrorist. You're not likely to see him in the Northern Areas of Pakistan, where the men get aroused if they see too much flesh (whether male or female). But you might have seen him in foreign cities, where they don't give a damn whether you prefer men or women or goats!
Posted by

John Hardon
at 19:16
0 comments

Court case 'with the script of a horror movie' pits a man who claims to be directed by God against the woman he is accused of raping and whom he still believes to be his wife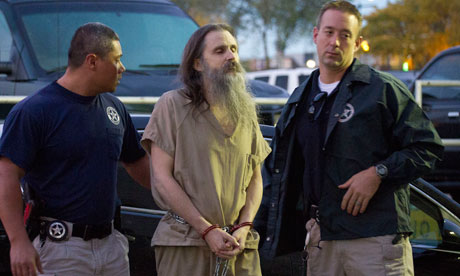 Mitchell being escorted into court:
every day of the trial began with
him singing hymns and refusing
to
stop before being removed.
Dressed in a beige coat, the young woman walked quickly as she braved a phalanx of photographers and TV cameramen that would have flattered even an A-list Hollywood star. But this was no red carpet scene.
It was outside the courthouse in Salt Lake City and the woman was Elizabeth Smart, 23, plucked from obscurity and into national fame by one of the most horrific kidnappings in US criminal history. The story of that crime, which saw a 14-year-old Smart held captive for nine months and forcibly "married" to a man who considered himself a Mormon prophet, stunned America in 2002.
The bizarre details of the incident have finally emerged. Smart last week gave three days of testimony in the trial of Brian David Mitchell, a former street preacher who crept into her bedroom and spirited her away into the mountains at knifepoint.
Posted by

John Hardon
at 18:55
0 comments

People are banned from areas whilst on bail for minor offences yet this nonce who was found guilty of sexually assaulting a ten-year-old girl is unbelievably given bail and then allowed - BY 'OUR' COURTS - to live in the area that his victim lives...
Anger as child sex attacker back in victim's neighbourhood
The mother of a young girl abused by a paedophile has condemned a Court's decision to allow him to continue living in her Bradford neighbourhood after he was convicted of the sex attack.
Zabhullah Boota, 51, was found guilty by a Bradford Crown Court jury of sexual assault and inciting a child under 13 to engage in sexual activity.
He was remanded on unconditional bail by Recorder Benjamin Nolan QC to await a date when he will be sentenced, leaving him free to remain at his home in Lydgate Drive, Lidget Green, in the same area as his young victim's home.
He had committed the sex attack in the living room of his house.
The child's mother, who cannot be named to protect her daughter's identity, said that decision meant she and her daughter, who was aged under ten at the time of the offences, still regularly see Boota in the neighbourhood, which was having a traumatic affect on the girl.
She said: "My daughter has been devastated, she's started having nightmares and she feels we have not been supported as a family.
Posted by

John Hardon
at 18:46
1 comments

Traitors Cameron, Osborne, Cable and Gove (right to left)
in the Great Hall of the People in Beijing
The government of Europe is scarcely more accountable than that of China, says Christopher Booker
Quite a few eyebrows will have been raised last week at the sight of our Prime Minister in China extolling the virtues of democracy. If democracy means anything, it is a system which makes a government accountable to its people and gives them the chance to replace it with another one. That certainly doesn't apply to the one-party state in China. But how much does it apply in Britain, where almost everything our Government does is either dictated or constrained by decisions taken at a higher level by our new system of government centred in Brussels?
We are now largely ruled by a form of government which we can no more call to account than the Chinese can theirs. In effect we also live in a one-party state. And no one should know this better than David Cameron since, as a member of the European Council, he is obliged under Article 9 of the Lisbon Treaty (aka the European Constitution) to put his loyalty to the "Union" above the interests of his own country.
Posted by

John Hardon
at 18:21
0 comments

Finally one man has come forward to resurrect the Constitutional chain of legitimate responsibility that could actually do what the illustration above is suggesting we do; which is to charge George W. Bush with Murder; on the record and in court for the whole world to see. (1)
Beyond this pivotal event there are a series of seemingly unassociated actions which are underway at the present time, that were designed to finish the official takeover of theUnited States. Here are some of those actions.
'The reason for the intensification of thuggery, pedophilia and the sexual perversions in the Gestapo lines at US airports, is being done to divert attention from what is going on with what is left of the financial markets: Chertoff was given control over Homeland-Security by Bush even though Chertoff has always been an Israeli citizen, and not an American, which is why this sexual assault on the entire nation can now be taking place. This video ought to open many more eyes to what is really going on now! (2)
Amerikans are famous for not being able to manage anything that requires paying attention to more than one threat at a time. This entire groping, fondling and sexual assault-crime scandal ­ artificially created by privatized security forces is just the kind of cover needed to stop the public from seeing exactly what is going on with what's left of the monopoly-money (US currency) that most still think of as real.
Read more...
Please join and support vince at:
http://www.indiegogo.com/bush
Famed Charles Manson prosecutor and three time #1 New York Times bestselling author Vincent Bugliosi stars in this most powerful, explosive, and thought-provoking documentary.

In The Prosecution of George W. Bush for Murder, Bugliosi presents a tight, meticulously researched legal case that puts George W. Bush on trial in an American courtroom for the murder of nearly 4,000 American soldiers fighting the war in Iraq. Bugliosi sets forth the legal architecture and incontrovertible evidence that President Bush took this nation to war in Iraq under false pretenses—a war that has not only caused the deaths of American soldiers but also over 100,000 innocent Iraqi men, women, and children; cost the United States over one trillion dollars thus far with no end in sight; and alienated many American allies in the Western world.

As a prosecutor who is dedicated to seeking justice, Bugliosi, in his inimitable style, delivers a non-partisan argument, free from party lines and instead based upon hard facts and pure objectivity.

A searing indictment of the President and his administration, The Prosecution of George W. Bush for Murder also outlines a legally credible pathway to holding our highest government officials accountable for their actions, thereby creating a framework for future occupants of the oval office.

Vincent Bugliosi calls for the United States of America to return to the great nation it once was and can be again. He believes the first step to achieving this goal is to bring those responsible for the war in Iraq to justice.
Posted by

John Hardon
at 18:09
0 comments

The US has stepped up flights by pilotless drones and increased the deployment of special forces and CIA operatives in the Middle Eastern nation of Yemen. The US military and CIA have been covertly operating in Yemen since at least 2002.
The November 7 Washington Post quoted unnamed US officials as saying that drones operating over Yemen now included Hellfire missile-equipped Predators. The article said that "up to 100" extra US "Special Operations force trainers" and an unspecified number of "additional CIA teams" were being deployed.
The pretext for this rise in aggression was two parcel bombs mailed from Yemen to Jewish organisations in Chicago that were discovered on cargo planes in Dubai and Britain on October 29, after tip-offs from Saudi intelligence.
Posted by

John Hardon
at 17:50
0 comments

A Critique
By Brother Nathanael Kapner, Copyright 2010
AS WE EXPLORE

a sampling of Hitler's early views on the Jews, we shall discover striking parallels to conditions existing in our own day.
Jewish propagandists would have us believe that Hitler's unfavorable attitude toward Jewry was based solely on a "racial" hostility between Aryans and the Jewish people.
But as we examine Hitler's early views regarding the Jewish Question, we do not find a predominantly racial line of disputation, but rather, a social line of argumentation.
Although the future Führer did identify Jewry as having a "racial character" formed by centuries of Jewish insulation within their host nations, he did not ground his opposition on genetic predetermination. Thus, the accusation that Hitler was a "racist" is a Jewish lie.
Beginning with a letter written in 1919 in reply to an inquirer on the subject of Jewry's influence in the Weimar Republic, Hitler stressed the need for a rational basis for anti-Semitism that would oppose the ethos and actions of Jewry:
Posted by

John Hardon
at 17:42
0 comments

This animation shows all important battles that took place over the last ten centuries. The sizes of the explosions and labels are proportional to the number of casualties. The music is "Ride Of The Valkyries" by Richard Wagner. The data comes from the wikipedia article, List of Battles.
Posted by

John Hardon
at 17:32
0 comments

'As the bipolar Cold War system ended, a transitory phase of globalization was initiated in order to pave the way for global governance. The color revolutions of the 21st century were a highly sophisticated method of transforming nation states into such a world system.
Mongolia experienced the draft form of color revolution in its "Red Rose Revolution" in the 1990's. The sparsely populated country was easier to manipulate due to its corrupt politics and post-Communist identity crisis. As with many buffer states, Mongolia regarded it as beneficial economically, geo-strategically and security-wise to cooperate with larger powers such as the U.S.'
Posted by

John Hardon
at 13:00
0 comments

'The European president Herman van Rompuy offers a tempting target for jokers. But his call for for the imposition of a common economic policy, backed up with surveillance and punishments, has a decidedly sinister ring.'
Posted by

John Hardon
at 12:53
1 comments

'Nothing more poignantly reflects the collapse of the great global warming scare than the decision of the Chicago Carbon Exchange, the largest in the world, to stop trading in "carbon" – buying and selling the right of businesses to continue emitting CO2.
A few years back, when the climate scare was still at its height, and it seemed the world might agree the Copenhagen Treaty and the US Congress might pass a "cap and trade" bill, it was claimed that the Chicago Exchange would be at the centre of a global market worth $10 trillion a year, and that "carbon" would be among the most valuable commodities on earth, worth more per ton than most metals. Today, after the collapse of Copenhagen and the cap and trade bill, the carbon price, at five cents a ton, is as low as it can get without being worthless.
Here in Britain, as the first snows fall, heralding what may be our fourth cold winter in a row, it is time we addressed one of the most glaring political "disconnects" in our sadly misgoverned country.'
Posted by

John Hardon
at 12:50
0 comments

Rigoberta Menchú
'The story of Rigoberta Menchú, a Quiché Mayan from Guatemala whose autobiography catapulted her to international fame, won her the Nobel Peace Prize and made her an international emblem of the dispossessed indigenous peoples of the Western Hemisphere and their attempt to rebel against the oppression of European conquerors, has now been exposed as a political fabrication, a tissue of lies. It is one of the greatest hoaxes of the 20th century.
Equally remarkable, and also indicative of the cultural power of the perpetrators of this hoax, is the fact that the revelation of Menchú's mendacity has changed nothing.
The Nobel committee has already refused to take back her prize, the thousands of college courses that make her book a required text for American students will continue to do so and the editorial writers of the major press institutions have already defended her falsehoods on the same grounds that supporters of Tawana Brawley's parallel hoax made famous: Even if she's lying, she's telling the truth.'
The 1982 autobiography that launched the hoax "I, Rigoberta Menchú," was actually written by a French leftist, Elisabeth Burgos-Debray, wife of Marxist Regis Debray, who provided the foco strategy for Che Guevara's failed effort to foment a guerrilla war in Bolivia in the 1960s. Debray's misguided theory got Guevara and an undetermined number of Bolivian peasants killed, and as we shall see is at the root of the tragedies that overwhelmed Menchú and her family.
Just like the phantom 6 million the fact that this is a lie does not stop them ramming it down childrens throats as the truth because it suits their agenda of instilling a guilt complex in white people.
Posted by

John Hardon
at 12:44
0 comments

David Cameron is expected to increase significantly the number of immigrants from beyond Europe permitted to enter Britain each year, The Daily Telegraph can disclose.
The Prime Minister is understood to have been influenced by business concerns that the cap introduced after the election is preventing highly-skilled people from coming to this country.
The current limit of about 2,600 non-EU migrants a month is expected to be increased to allow more than 4,000 workers a month to enter Britain next year. The final cap is still being discussed but is expected to be unveiled later this month.
This week, the Migration Advisory Committee will publish its recommendations to ministers on the level at which the cap should be set. The committee is expected to offer a range of scenarios and the Coalition is expected to reject the more hardline approach.
Hardons comment:
We all knew that this was coming, it has nothing to do with 'Skilled migrants' It is all about cheap labour and carrying on Labours legacy of multicultural hell.
Posted by

John Hardon
at 12:35
0 comments

Pay out: Northumbria Police acting chief
constable Sue Sim received £33,000 -
this biggest police bonus this year
Police chiefs are still pocketing five-figure bonuses despite the fact thousands of officers are a risk of losing their jobs.
In the last three years more than £2.2million has been paid in bonuses to chief constables, their deputies and assistants, new figures show.
Northumbria Police acting chief constable Sue Sim netted the biggest payout to any serving officer this year.
More than £33,000 was paid out to the top officer, who faced criticism over the handling of the Raoul Moat investigation after the gunman was able to hide for days in a storm drain underneath officers' noses while on the run from shooting a policeman, his ex-girlfriend and killing her new lover.
The latest figures, obtained under the Freedom of Information Act, show that some officers have even seen their bonuses increase during the recession.
At Merseyside Police, chief officers received £45,192 this year - up from £33,714 the previous year.
The payments included £22,178 to Chief Constable Bernard Hogan-Howe, who retired earlier this year.
The bumper bonuses at a time when forces are facing hugh cutbacks has provoked fury amongst rank and file officers.
Posted by

John Hardon
at 12:28
0 comments

British taxpayers could be left with more than £10billion of debt to bail out the Irish economy.
Ireland is holding talks about a £70billion EU rescue deal, and the UK will have to underwrite 10 per cent of any losses - around £7billion.
Royal Bank of Scotland is also under threat since the state-owned bank has £53billion of exposure to Irish loans, more than £40billion of which are underwritten by British taxpayers.
The International Monetary Fund warned last week that if the Irish economy hits the skids, the bank, which is 84 per cent owned by taxpayers, would probably have to write off problem debts of £4.3billion.
That would send the cost to British families soaring by another £3billion if Ireland cannot pay its debts.
The Dublin government is understood to have held 'preliminary' discussions with the EU about an aid package after fears grew at the weekend about its levels of debt.
Hardons comment:
We must get out of the EU now. No if's, no but's. OUT NOW!
Posted by

John Hardon
at 12:22
0 comments

General Sir Robert Fry, right, said the British
had developed a 'mawkish' attitude towards
the Armed Forces
They were words one hardly expected to hear from one of our most distinguished military figures ­— especially in the week of Remembrance Sunday.
However, that only makes the comments at the weekend of Lieutenant-General Sir Robert Fry, former commander of British forces in Iraq, all the more disturbing.
He said the British ­people had developed a dangerously 'mawkish' ­attitude towards the Armed Forces.
I think that the British ­people hold the Armed Forces in a state of excessive reverence at the present time. It is a greater infatuation than at any other stage of recent military history that I can recall,' he said.
With these comments, he has put his ­finger on a subtle, but crucial and ­potentially catastrophic shift in our national psyche.
So what's wrong with 'reverence', you may ask. Well, General Fry is making a brutal and, indeed, shocking observation - that the British hold dead soldiers in deep esteem while despising the causes for which they are currently laying down their lives.
This is because fundamental assumptions about this nation and the wars fought on its behalf have been shattered.
Support our troops - Bring them home.
Posted by

John Hardon
at 12:13
0 comments

Gangsters are tricking worried internet users into buying anti-virus protection that is actually malicious software in disguise, security experts warned today.
Investigators fear hacking gangs are pocketing millions of pounds by infiltrating customers' computers and stealing sensitive banking details.
They said criminals pose as legitimate IT companies who cold call victims offering fake security software that can be downloaded for around £30.
The crooks then combine credit card information from the sale with stolen personal information to defraud the customer or commit further crimes.
Sharon Lemon, who is responsible for fighting cyber crime at the Serious and Organised Crime Agency (Soca), said it is 'big business'.
She said: 'In recent cases, we have seen gangs employing 300 to 400 people to run their operations and using call centre-scale set ups to target victims en masse.
Hardons comment:
I have come accross this myself mainly on Porn sites. If you get anything like this pop up, exit the site immediatly
Posted by

John Hardon
at 12:05
0 comments

Sunday, 14 November 2010
Chief constables have asked ministers to change the law to give officers "a power to randomly check any driver".
The request from the Association of Chief Police Officers has emerged as ministers draw up new rules on driving under the influence of alcohol and drugs.
Some police forces already use checkpoints to stop and check drivers, but police chiefs want to be able to go much further.
Granting police the power to carry out random breath testing is one of the key recommendations in the report on road safety prepared by Sir Peter North, former Principal of Jesus College, currently being considered by ministers.
The previous Government had drawn up plans to change the law to allow this to happen, but were voted out of office before they were able to do so.
Some people may think that this is a good idea but I see it as yet another invasion of our freedom... Where does it stop?
Posted by

John Hardon
at 14:01
0 comments

When you look up into the night sky there is a predictable symmetry. The moon has its reliable phases. The planets can be seen in their courses by those informed enough, or technically empowered enough, to view them. Astronomers see one section of bandwidth and astrologers see another and what is stated to be so and what is intuited to be possible, are both extreme limitations placed upon the unknown and life goes on independent of the findings of either. The sun appears every morning, as the Earth rotates into it. You would have to say that balance is the key to the whole apparatus, independent of understanding it. Balance expresses itself in the cyclic repetition of seasons and events. It all has the appearance of being arranged. Someone like me would say it's all under control.
We've heard that evil destroys itself. That implies that components within the schematic are in opposition to other components in terms of intention and agenda. You can think of evil as something like cancer, where the host body is attacked by elements which compose it. Ergo, you get people like Glenn Beck attacking George Soros. A representative of Little Georgie Sorrows told Glenn Beck that he was hurting Georgie's business. The implication of a dead fish coming in a UPS truck is not to be missed.
The main feature that you notice about Wall Street and the multinationals; the bankers and other major players on the world stage is that there is no limit to their need to acquire at the expense of others and each other. Some of them have tens of millions of dollars. Some of them have hundreds of millions of dollars. Some of them have billions of dollars and some of them have tens of billions of dollars and all of them want hundreds of billions of dollars and more and more and more.
Posted by

John Hardon
at 13:54
0 comments

The United Nations celebrated its 65th birthday (1945 to 2010) on 24 October 2010. At 65 the world body has lasted 27 years longer than its predecessor, the League of Nations (1919 to 1946). Will the UN go another 65 years? To help answer that question a quick look at what did in the League of Nations is in order.
Posted by

John Hardon
at 13:49
0 comments

Posted by

John Hardon
at 13:42
0 comments

Hardons comment:
I do not agree with Doug Casey's comparison with NS Germany. A better comparison would be the rise of communism in the Soviet Union and the KGB.
Posted by

John Hardon
at 13:38
0 comments

The triangular object, which was said to be four of five times the size of a commercial airliner, was seen in Boldmere heading in the direction of Wylde Green last Thursday (November 4) at around 6.30pm by Sutton workers Matt Somerton and David Allen.
Matt, who works as a data processor in the town centre, was being driven along Jockey Road to his Boldmere home in Wakefield Close when he saw the strange craft just as he came over the railway bridge.
He had been chatting to David about booking tickets for a gig in
Birmingham
when he saw the triangular craft, which, he said, "Looked like the Red Arrows when they fly in formation".
The 23-year-old added: "It was too big to be any plane I know of. It was just gigantic, I would say 100ft across. I was in shock and said: 'What the hell was that?'"
Matt said that David Sharp, who was driving him home, nearly crashed when he looked up.
"He heard me mention a UFO and looked over to the left and swerved the car," Matt said. "He said it was too big to be a Lancaster Bomber or anything like that.
"It was also silent. I couldn't really make out a structure and couldn't see anything in the middle of the lights.
"I have had a look on the internet and it said it could be plasma but with the technology they have these days, it could be anything." David, who was at work in the Spar shop in Boldmere Road, a short distance from Jockey Road, was at first sceptical about Matt's sighting but then went outside the back of the shop and was amazed at what he saw.
"I didn't really believe him but he told me to go outside of the Spar, as it was travelling my way," the 23-year-old supervisor said.
"I went out the back of the shop and saw a massive black triangle, slowly moving over the top of the flats there. It had three main lights, one in each corner, and smaller blinking lights.
"There was no way it was a plane, as it was at least four to five times as big and made no noise."
The sighting came on the same day a national newspaper reported sightings of a triangular craft with three yellow lights in Oswestry, Rotherham and Harrogate.
A spokesperson for
West Midlands Police
said they had not received any reports of UFO
sightings in the past week.
■ If anyone in Sutton or Erdington, spotted a strange object in the area recently, the Observer would like to hear from them at suttonobserver@cintamworth.co.uk
Hardons comment:
Whatever this was I very much doubt that it had anthing to do with Aliens, it is more likely something to do with new NWO technology based on Tesla's levitation theory.
Posted by

John Hardon
at 13:28
0 comments

Millions of homeowners living near the sea or rivers face being hit with a new "flood tax" under controversial coalition plans to plug a £260m shortfall in spending on flood defences. The controversial proposal comes as the residents of Cumbria prepare to mark the anniversary of the floods which devastated the Lake District last year.
The Independent on Sunday has learned water minister Richard Benyon believes the cost of protecting homes and businesses from the elements should be "shared" between the government and those who benefit from defences directly. From April 2012, the government wants to see a new structure in place which combines public and private funding.
In return for paying the levy – which would be on top of higher insurance premiums already imposed on flood risk areas - local communities would get a greater say in which areas are protected. A consultation on the idea is scheduled to be launched this week, despite coinciding with the first anniversary of the Cumbria floods.
Hardons comment:
About 40 years ago the then Chanceller of the Exchequer, Denis Healy said: "We are going to tax the rich until the pips squeek' Now they are taxing everybody but the super rich to the point where it is becoming impossible to live. They (The pratts in power) built thousands of houses on known flood planes, now they want you to pay for their folly.
Posted by

John Hardon
at 12:39
0 comments

Many young people are seeking to emigrate rather than face a life of hardship as the republic lurches towards financial collapse.
A homeless Irish teenager begs on Merrion row,
just around the corner from government bulidings in Dublin, Ireland.
Posted by

John Hardon
at 12:25
0 comments